TEMPERATURE: Though average temperatures for the 2022 growing season continue to be similar to long-term average values, August temperatures have been much warmer than normal. This past week (August 15-21, 2022) the average daily temperature for the prairie region was 1.5 °C warmer than the previous week and almost 5 °C warmer than climate normal temperatures for the region. Last week recorded the warmest weekly average temperature of the 2022 growing season so far. The warmest temperatures were observed across southwestern Saskatchewan and southeastern Alberta (Fig. 1).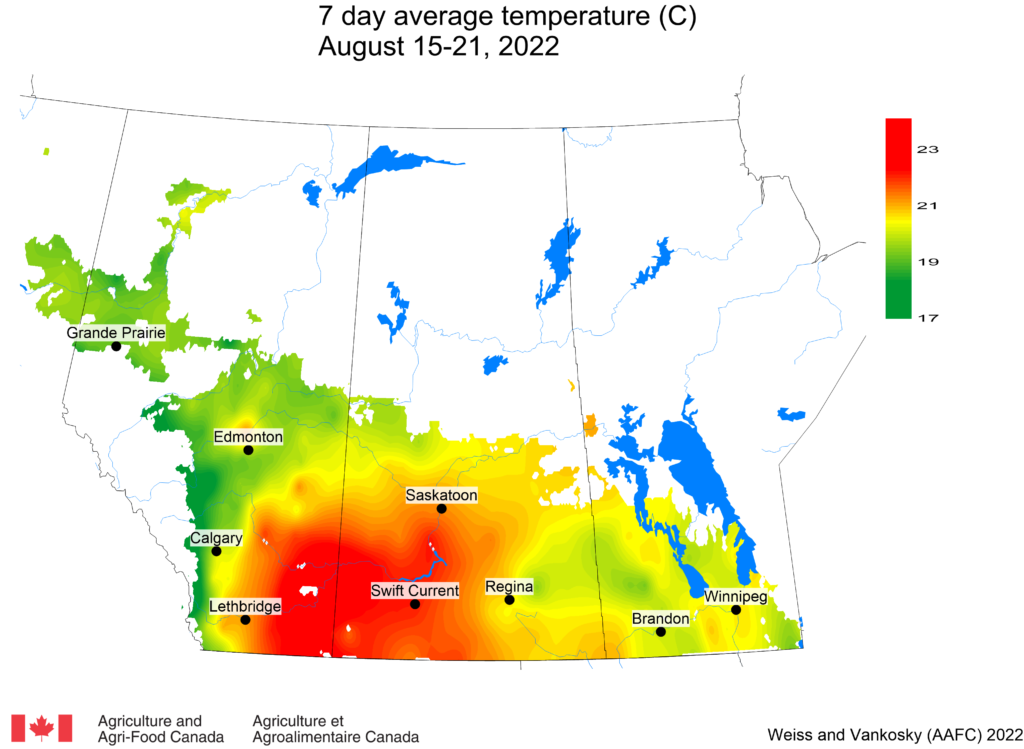 The prairie-wide average 30-day temperature (July 23 – August 21, 2022) was 2 °C warmer than the long-term average value for the same period. Average 30-day temperatures continue to be warmest across southern Alberta and southwestern Saskatchewan (Fig. 2). The average growing season (April 1-August 14, 2022) temperature for the prairies has been similar to climate normal values. The growing season has been coolest in a region extending from Edmonton to the Peace River region (Fig. 3).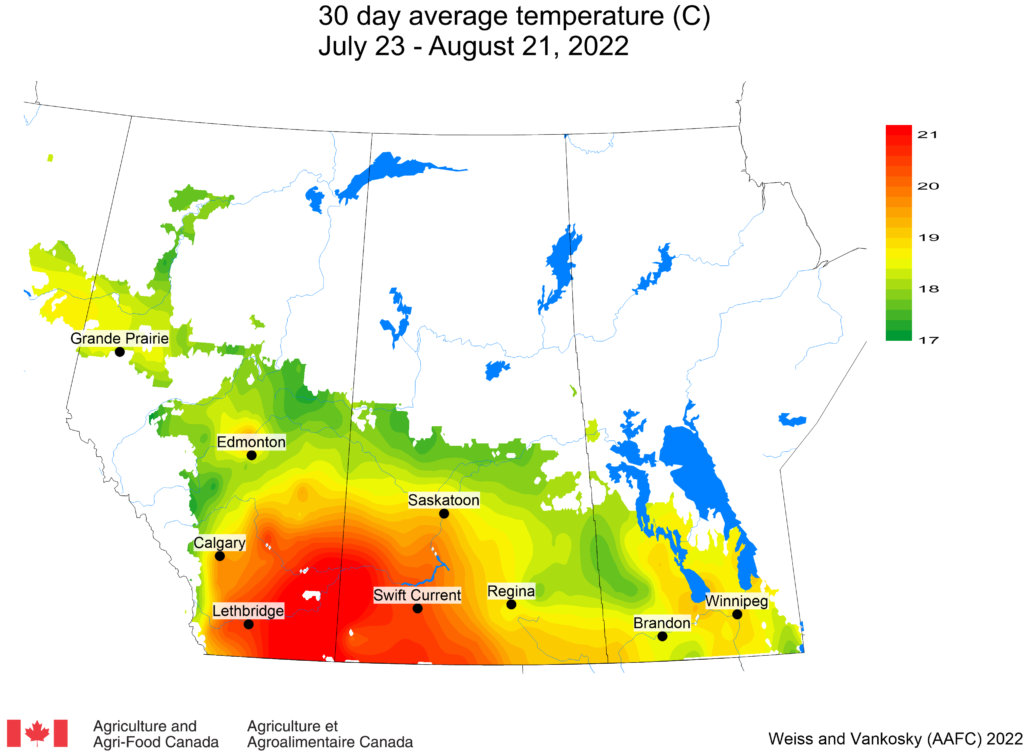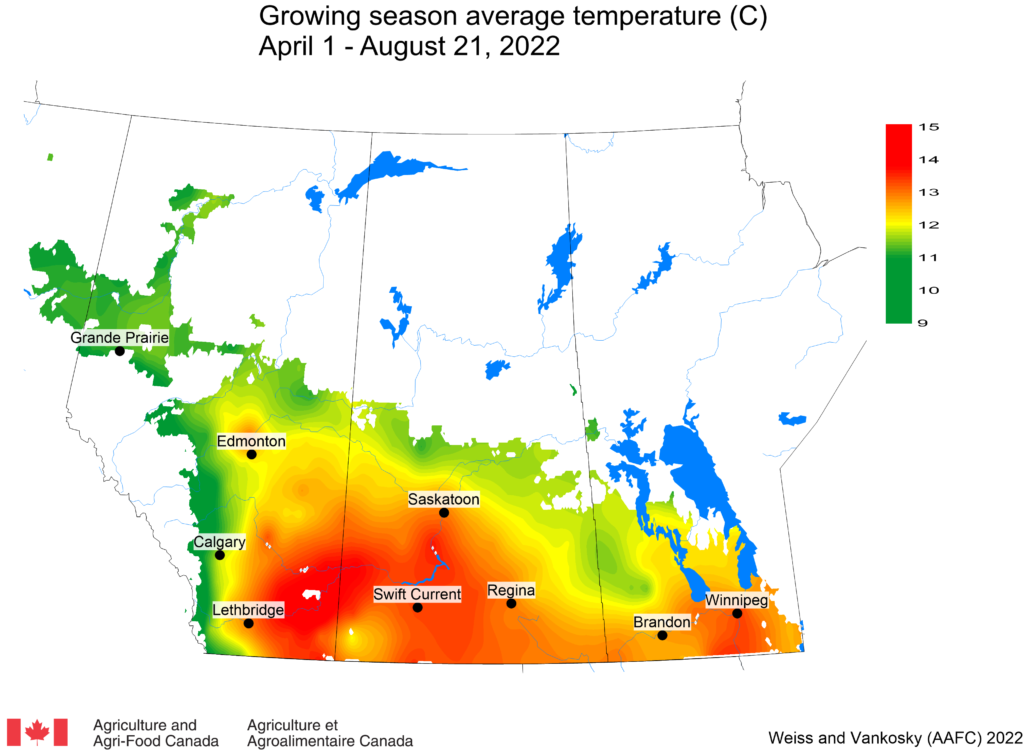 PRECIPITATION: This week (August 15-21, 2022), minimal amounts of rain were reported for Alberta and Saskatchewan. The greatest weekly precipitation amounts occurred across southern Manitoba (Fig. 4). The 30-day (July 23-August 21, 2022) rainfall amounts continue to be greatest across eastern Manitoba while dry conditions persist across the southern and central regions of Alberta and Saskatchewan (Fig. 5). Rainfall amounts across southern Alberta and southwestern Saskatchewan have been 40% less than climate normal values.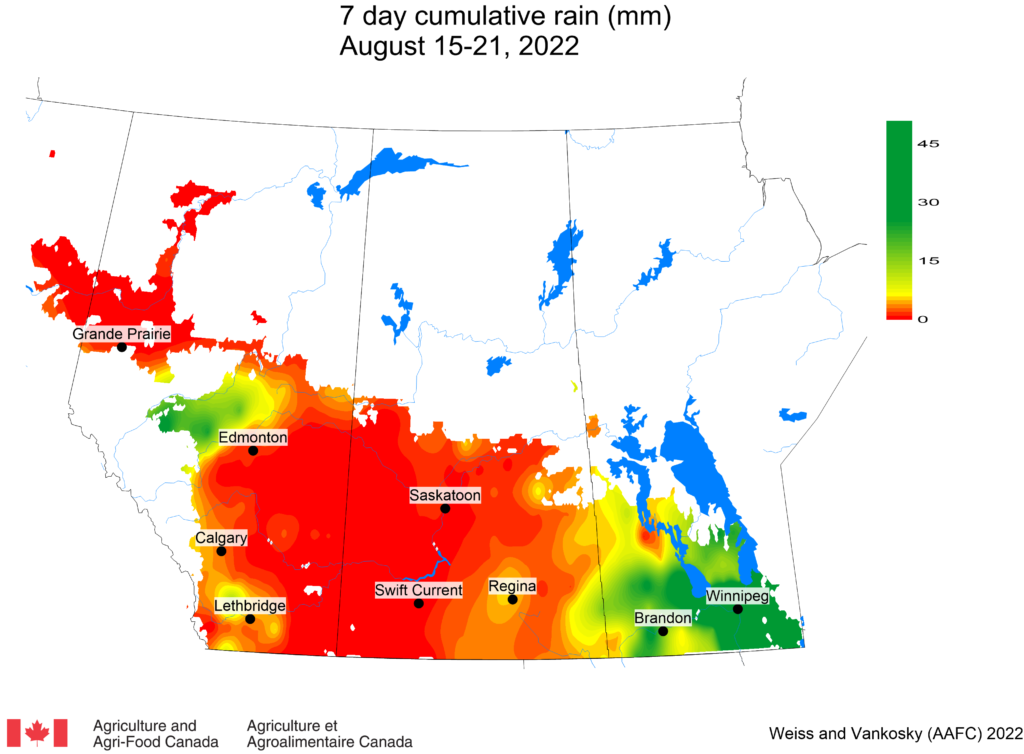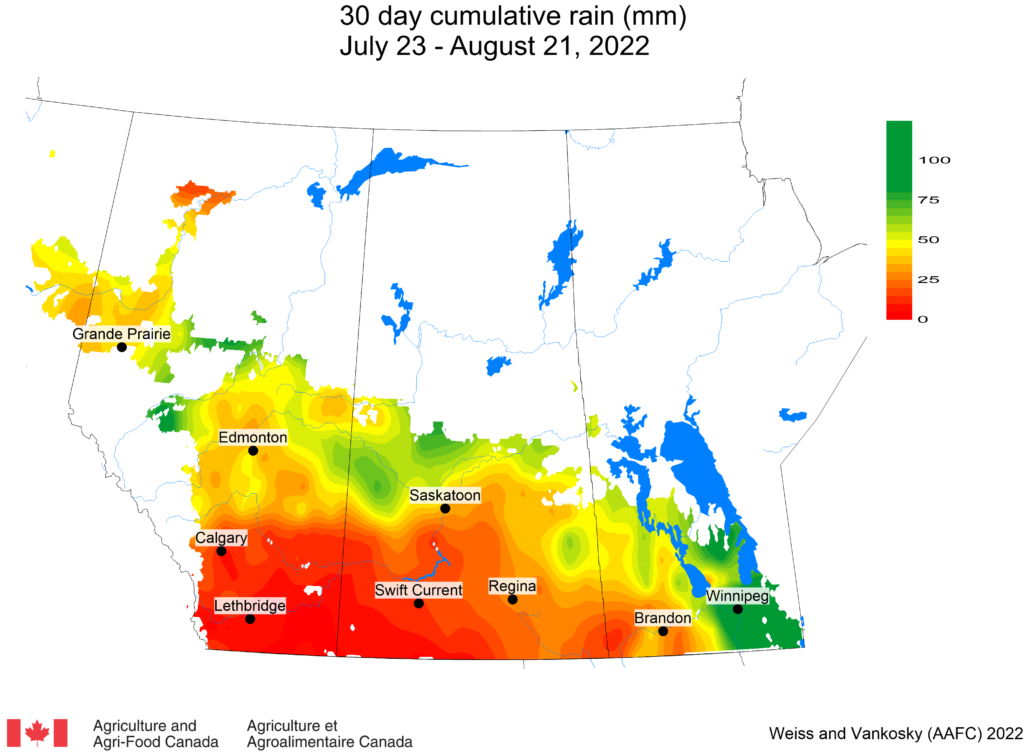 Growing season rainfall for the prairies (April 1 – August 21, 2022) has been near normal for Alberta and above normal across southeastern Saskatchewan and Manitoba. Total rainfall continues to be greatest across Manitoba and eastern Saskatchewan and least across central and south-central Saskatchewan (Fig. 6).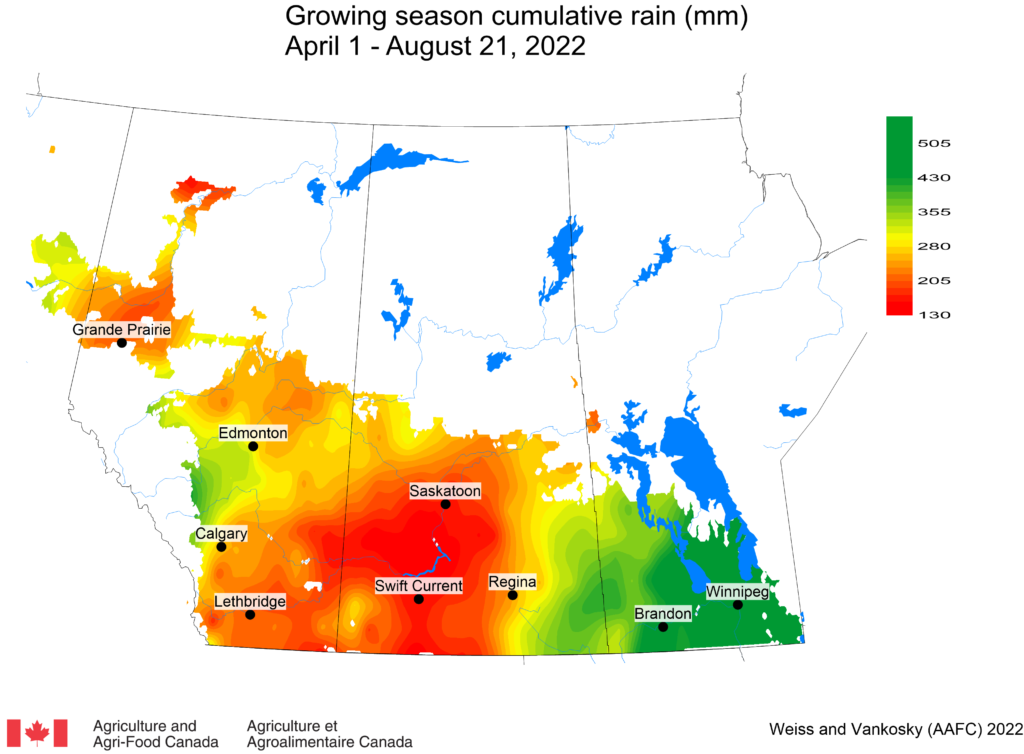 Growing degree day (GDD) maps for Base 5 ºC and Base 10 ºC (April 1-August 22, 2022) can be viewed by clicking the hyperlinks. Over the past 7 days (August 16-22, 2022), the lowest temperatures recorded across the Canadian prairies ranged from < 0 to >12 °C while the highest temperatures observed ranged from <26 to >34 °C. Review the days at or above 25 °C across the prairies and also the days at or above 30 °C. Access these maps and more using the AAFC Maps of Historic Agroclimate Conditions interface.
The maps above are all produced by Agriculture and Agri-Food Canada. Growers can bookmark the AAFC Current Conditions Maps for the growing season. Historical weather data can be accessed at the AAFC Drought Watch Historical website, Environment Canada's Historical Data website, or your provincial weather network. The AAFC Canadian Drought Monitor also provides geospatial maps updated monthly.