Week 11 and our staff are again busy surveying! In fact, it's appropriate that we take this moment to thank the MANY people who are busy checking traps, doing sweeps, and processing samples! It's a massive undertaking that happens across the Canadian prairies and begins with dedicated individuals.
Western Canada has one of the most expansive and historically deep data collections in agricultural entomology with grasshopper surveys extending over 100 years and many of our "recent" pests have data sets extending at least 5-40 yrs or more. That amazing data is used in so many ways but it directly supports the development of bioclimatic models for Canada's most important economic agricultural insect pests and Canadians benefit with predictive model outputs that help growers time and prioritize in-field scouting. It also incrementally improves the ability to estimate insect pest risk from year to year. THANK YOU to everyone who contributes – just "see" how many sites were monitored in 2020!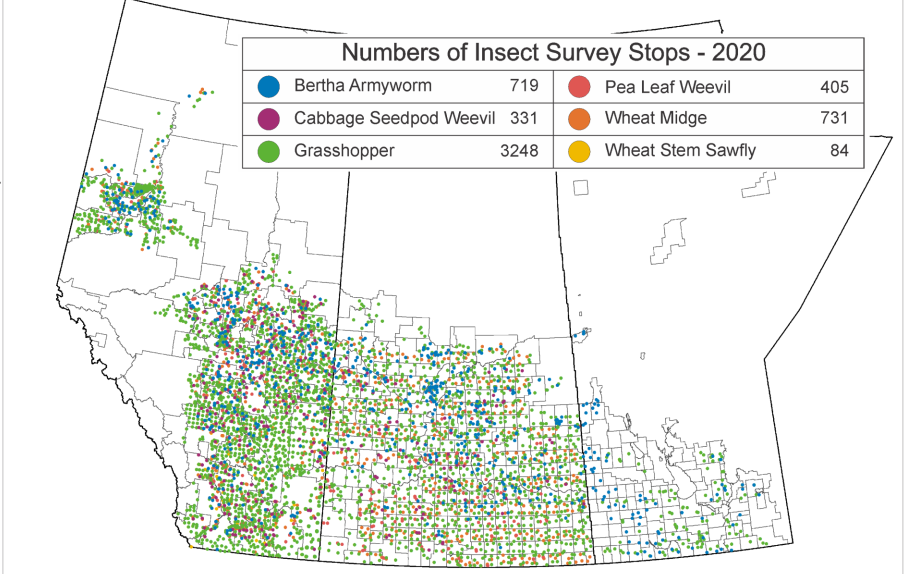 Be sure to catch the Insect of the Week – it's swede midge and the canola flower midge: Doppelganger pests!
Stay safe and good scouting to you!
Questions or problems accessing the contents of this Weekly Update? Please contact us so we can connect you to our information. Past "Weekly Updates" can be accessed on our Weekly Update page.