***Special thanks to Mark Berry, AAFC-Geomatics, for providing up-to-date weather information for the prairies that is summarized here and used to predict insect development. Mark provides this information for every Weekly Update, but I'm new to running the website and have not yet figured out how to add him to the author list for the posts***
During the week of May 15-21 average prairie temperatures continued to be well above average. The average daily temperature was 4°C warmer than normal (Fig. 1). The warmest temperatures were observed across Alberta and western Saskatchewan. Dawson Creek, BC was 8°C warmer than average temperatures for mid-May. The coolest weekly temperatures were observed over eastern Saskatchewan and Manitoba.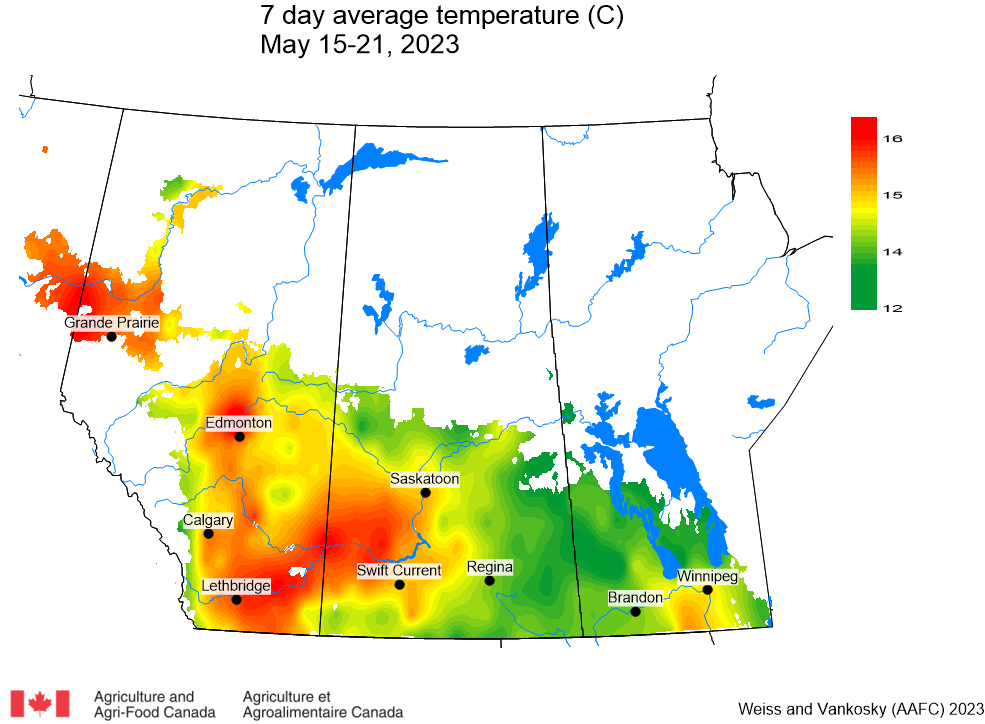 Average temperatures over the past 30 days (April 22 – May 21, 2023) have been 3°C above normal with the warmest values being reported for Alberta and western Saskatchewan (Fig. 2).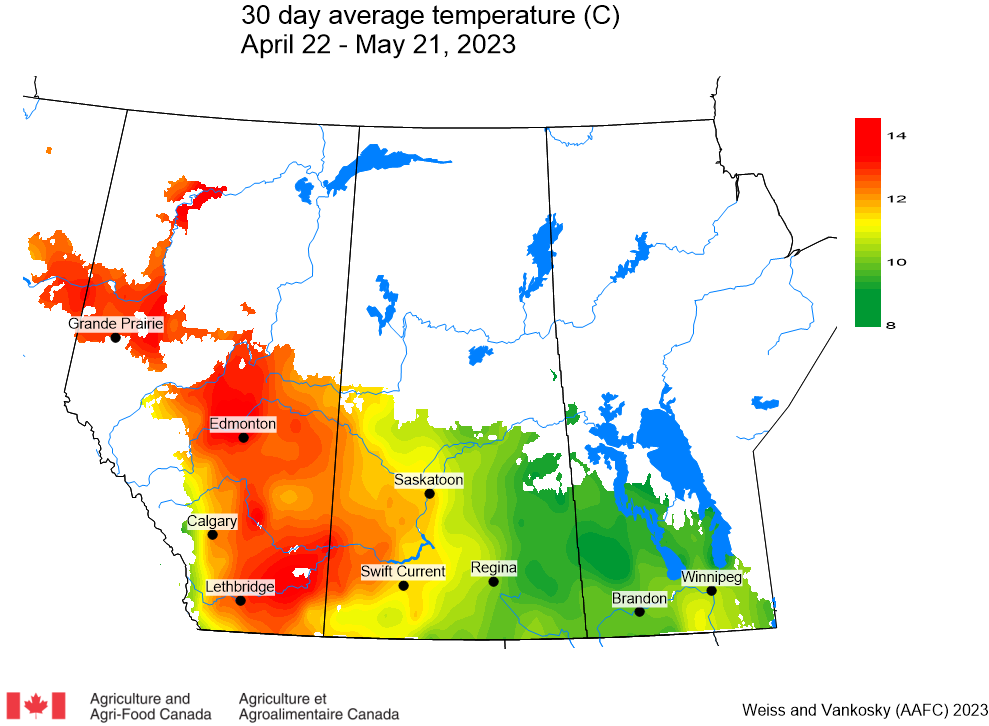 Since April 1, the 2023 growing season has been coolest across eastern Saskatchewan and Manitoba (Fig. 3). Alberta temperatures continue to be above average. Relative to climate normals, growing season temperatures have been well above normal in the Peace River region. Fort Vermillion, AB has been 5°C warmer than normal and Fort St. John, BC has been 4°C above normal. Temperatures have been below normal for many locations in Manitoba. For example, the average temperature near Melita has been 2.25°C cooler than average.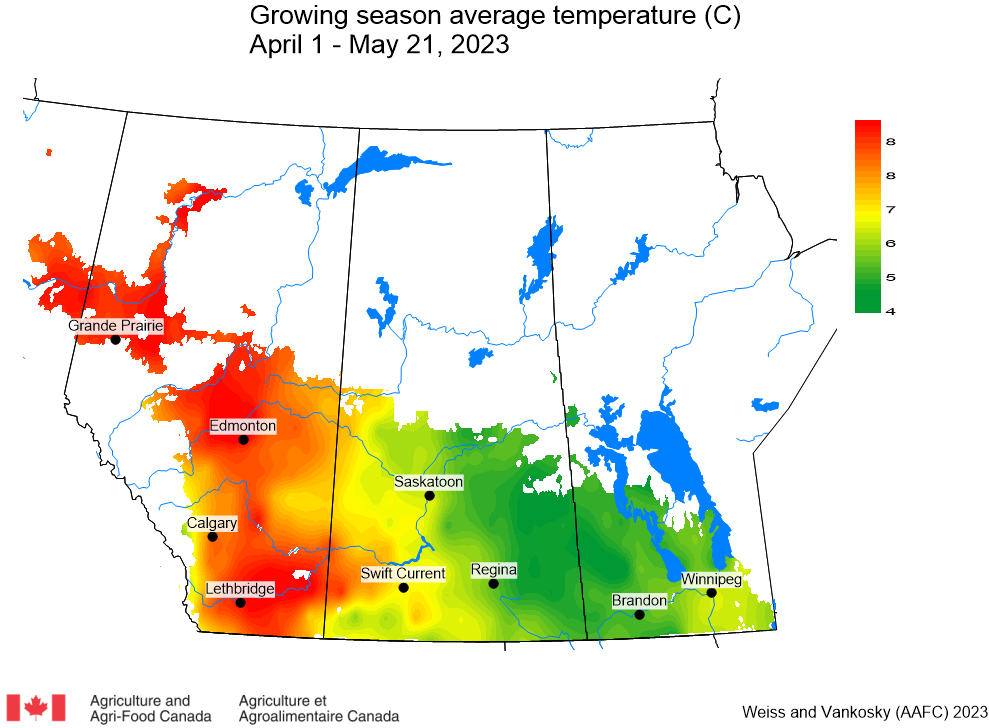 Seven-day cumulative rainfall (May 15-21) was very low for Alberta and Saskatchewan (Fig. 4). Over the past 30 days (April 22 – May 21, 2023), rainfall has been minimal for Saskatchewan and Alberta (Fig. 5). For example, Saskatoon has had 12 mm of rain in that time, which is only 9% of what the Saskatoon area normally receives in the same period. On average, the prairie region has received about 40% of the precipitation normally expected for this time of year. For more information, visit the Agriculture and Agri-Food Canada Agroclimate site (https://www.agr.gc.ca/DW-GS/current-actuelles.jspx?lang=eng&jsEnabled=true).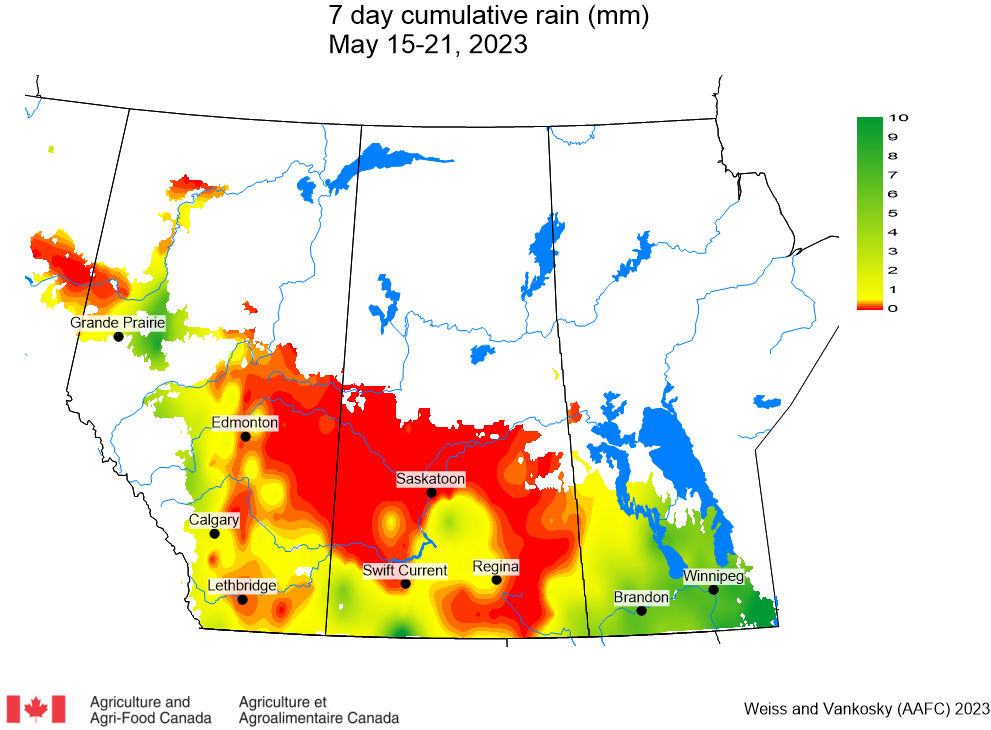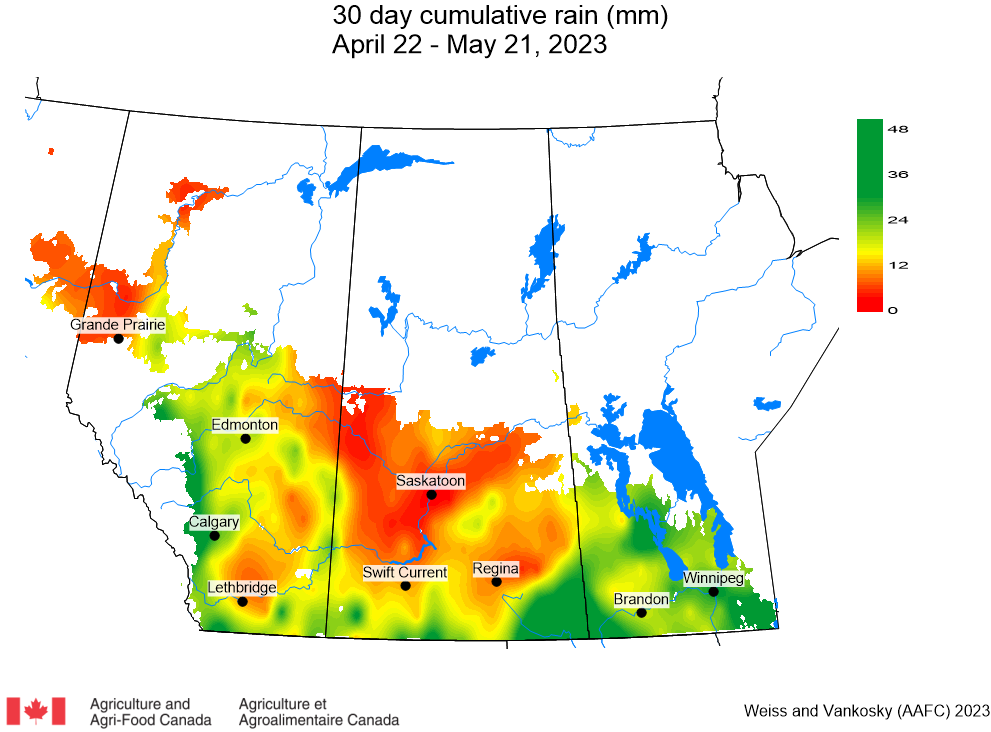 Growing season rainfall has been below normal across most of the prairies so far in 2023 (Fig. 6). A large region, extending from Lethbridge to Saskatoon to the Peace River region continues to have well below normal rainfall accumulations (Fig. 6). Meadow Lake rainfall has been 34% of normal and Kindersley has reported only 15 mm (42% of normal).