This week's Insect of the Week is the cereal leaf beetle. Wheat is their preferred host, but they also feed on oats, barley, corn, rye, triticale, reed canarygrass, ryegrass, fescue, wild oats, millet and other grasses. Adults and larvae feed on the leaf tissue of host plants. Yield quality and quantity is decreased if the flag leaf is stripped. It is also interesting to note that larvae carry all of their own fecal waste with them as protection from predators.


For more information on the cereal leaf beetle, see our Insect of the Week page.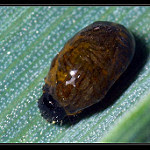 Cereal leaf beetle larva (cc-by 2.0 Christophe Quintin)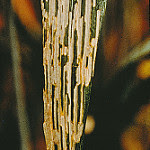 Cereal leaf beetle damage (cc-by-nc-sa 2.0 CIMMYT)


Remember the NEW Cutworm Field Guide is free and downloadable in 2017!