The grasshopper (Acrididae: Melanoplus sanguinipes) model predicts development using biological parameters known for the pest species and environmental data observed across the Canadian prairies on a daily basis. Review lifecycle and damage information for this pest. Review the historical grasshopper maps based on late-summer adult in-field counts performed across the prairies.
Model simulations were used to estimate percent grasshopper embryonic (egg) development as of May 15, 2022. Model results indicate that egg development ranges between 55 and 71 % across most of the prairies (average=61 %) (Fig. 1). Based on climate normals data, long-term average egg development should be 60 % (Fig. 2). Cool conditions in Manitoba and the Peace River region have resulted in slower development rates. The simulation indicates that egg development is greater than average across southern Alberta (Fig. 2). This region has had the least amount of rain over the past 30 days.
Grasshopper risk can be greater when conditions are warm and dry. The initial hatch may begin this week near Medicine Hat and Brooks in Alberta.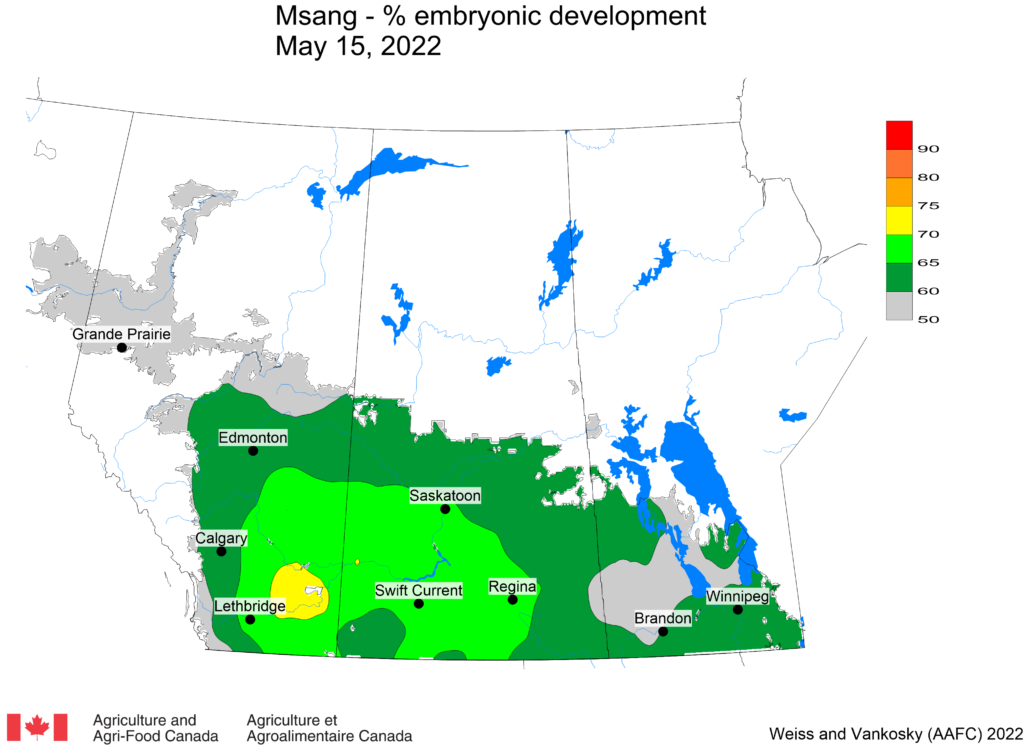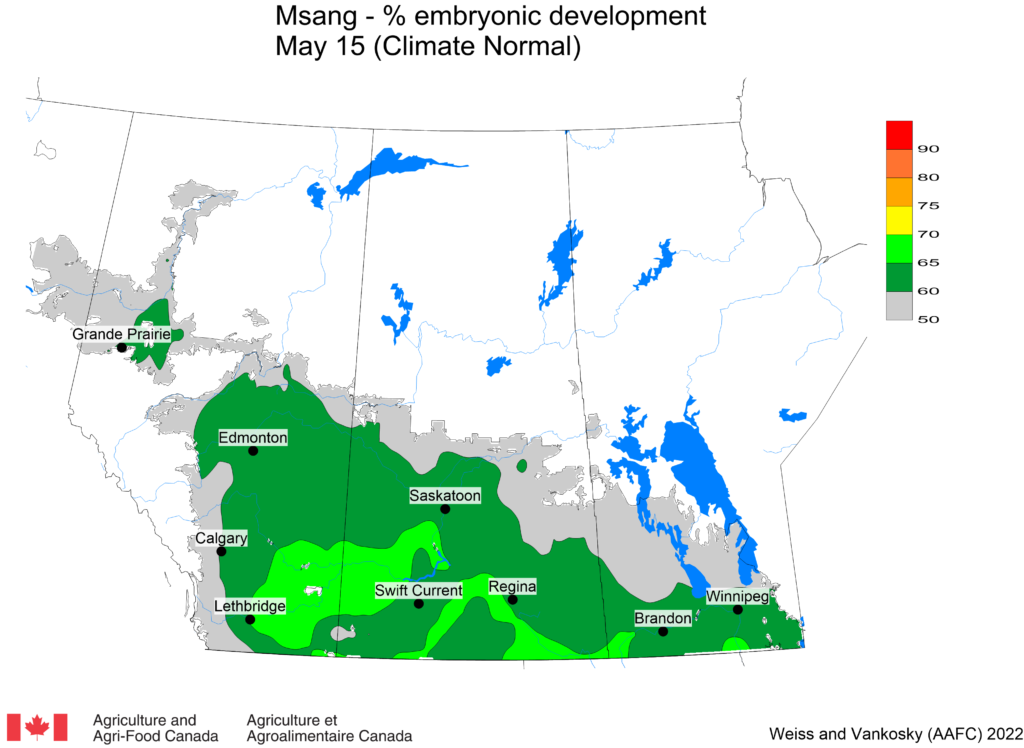 Grasshopper Scouting Tips:
● Review grasshopper diversity and photos of nymphs, adults, and non-grasshopper species to aid in-field scouting from egg hatch and onwards.
● Access the PPMN's Grasshopper Monitoring Protocol as a guide to help implement in-field monitoring.
● Review grasshopper lifecycle, damage and scouting and economic thresholds to support sound management decisions enabling the preservation of beneficial arthropods and mitigation of economic losses.
Biological and monitoring information (including tips for scouting and economic thresholds) related to grasshoppers in field crops is posted by Manitoba Agriculture and Resource Development, Saskatchewan Agriculture, Alberta Agriculture and Forestry, the BC Ministry of Agriculture, and the Prairie Pest Monitoring Network.  Also, refer to the grasshopper pages within the "Field Crop and Forage Pests and their Natural Enemies in Western Canada: Identification and management field guide" (2018) accessible as a free downloadable PDF in either English or French on our new Field Guides page.