The insect of the week is the Bruner grasshopper (Melanoplus bruneri).  Observed since the 1920s in Canada, this species is a relatively recent addition to the list of grasshopper pest species occurring in crop production areas. Previously, it was not considered a crop pest.
It is a medium-sized grasshopper (males 18-22 mm; females 22-27 mm) with dark and often reddish colour tones. It is similar in appearance and size to the migratory grasshopper (Melanoplus sanguinipes) but is distinguished by differences in the male genitalia. The Bruner grasshopper has recently become the predominant grasshopper species in many northern crop production areas of Alberta and parts of Saskatchewan. It occupies a wide geographic range and is found throughout much of Canada and the United States.
The Bruner grasshopper feeds mainly on broadleaf host plants but the species can feed upon several species of grasses. It has been observed in high numbers feeding in pulse crops, canola, and cereals.
Researchers are investigating if this species follows a two-year life cycle (i.e. do eggs require exposure to two winters before hatching?) in the Peace River region and parts of central Alberta.
For more information, see our Insect of the Week page!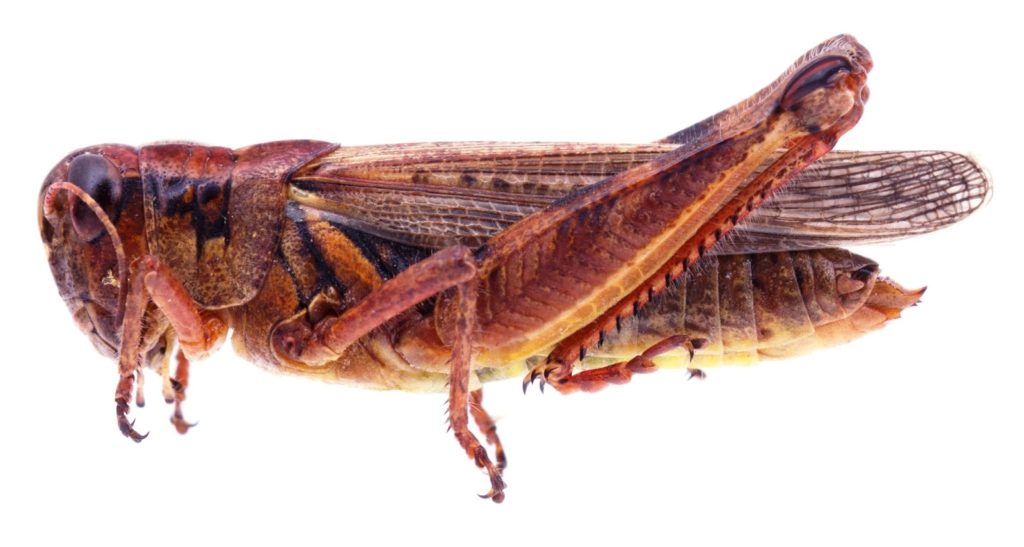 Access these websites for more information related to the Bruner Grasshopper: