Analysis of wind trajectory data (from Environment and Climate Change Canada) indicates that a number of upper air currents, originating over the USA Pacific Northwest, passed over Alberta and Saskatchewan during the last week of April and first three weeks of May. These wind currents could have been carrying adult diamondback moths into the prairies. In fact, adult diamondback moths have been collected in traps located across Alberta (information courtesy of Shelley Barkley, Alberta Agriculture and Irrigation) and Saskatchewan (information courtesy of Carter Peru and James Tansey, Saskatchewan Ministry of Agriculture) during the first three weeks of May.
DBM development can be rapid during periods of warm weather. This week, the diamondback moth model was initialized for May 1, 2023 and run to May 21. Though canola may not be present, model results indicate that females may have begun to lay eggs on cruciferous plants like volunteer canola and weeds. Larvae could now also be found feeding on these host plants. The model simulation indicates that populations near Grande Prairie, AB (Fig. 1) are likely to be more advanced in terms of development than populations near Cadillac, SK (Fig. 2) reflecting differences in growing season weather so far in 2023 at the two locations.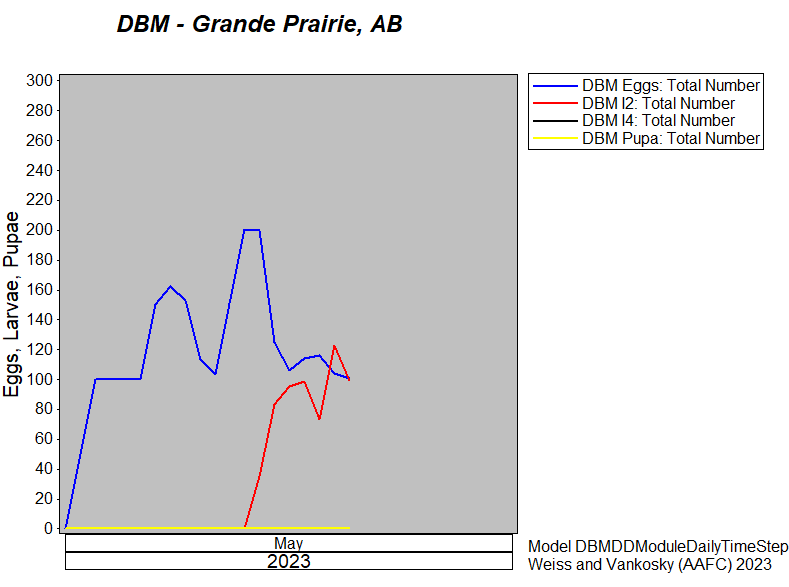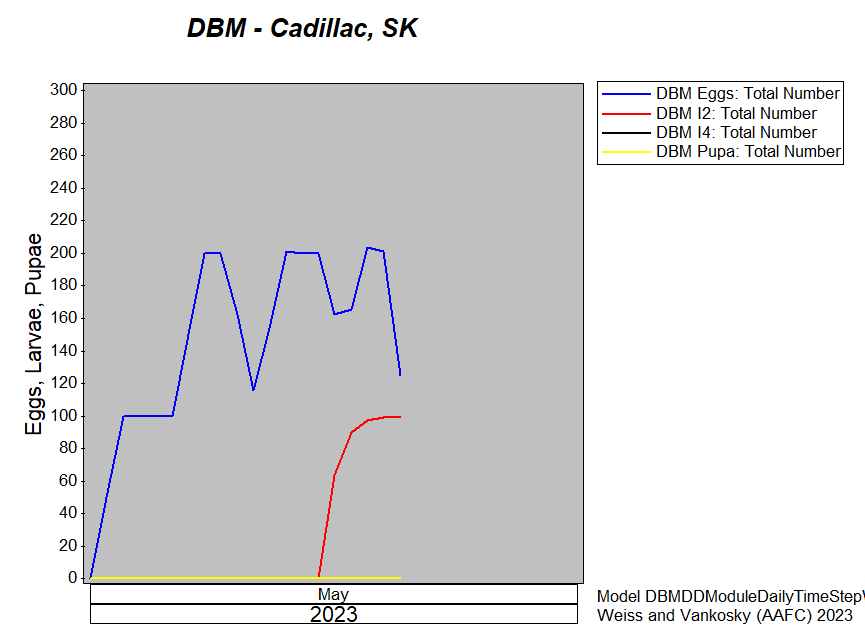 Spring Pheromone Trap Monitoring of Adult Males: Across the Canadian prairies, spring monitoring is initiated to acquire weekly counts of adult moths attracted to pheromone-baited delta traps deployed in fields. Weekly trap interceptions are observed to generate cumulative counts. Summaries or maps of cumulative male diamondback moth counts will be available for each province as the monitoring season progresses. These cumulative count estimates are broadly categorized to help producers prioritize and time in-field scouting for larvae.
In-Field Monitoring: Remove plants in an area measuring 0.1 m² (about 12″ square), beat them onto a clean surface and count the number of larvae dislodged from the plant. Repeat this procedure at least in five locations in the field to get an accurate count.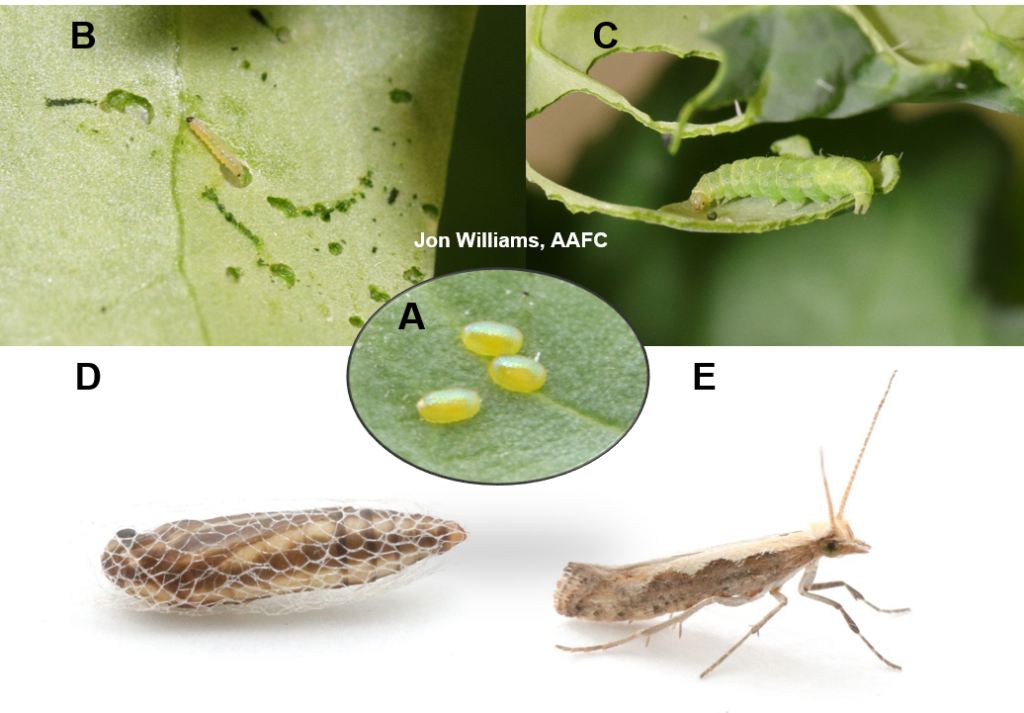 Biological and monitoring information for DBM (including tips for scouting and economic thresholds) is posted by Manitoba Agriculture, Saskatchewan Ministry of Agriculture, and the Prairie Pest Monitoring Network. Also, refer to the diamondback moth pages within the "Field Crop and Forage Pests and their Natural Enemies in Western Canada: Identification and management field guide" (2018) accessible as a free downloadable PDF in either English or French on our Field Guides page.