After arriving in western Canada in the spring, migrant diamondback moths begin to reproduce. In western Canada, there are usually up to four non-migrant generations of diamondback moth produced in 'local populations' during the growing season.
Due to warm weather in 2023, development of diamondback moth populations is well ahead of average development. Model simulations to August 20, 2023, indicate that the fourth and fifth generations of non-migrant adults (based on early May arrival dates) are currently occurring across the Canadian prairies (Fig. 1). Fourth generation diamondback moths, if present, are occurring farther north on the prairies compared to fifth generation diamondback moths.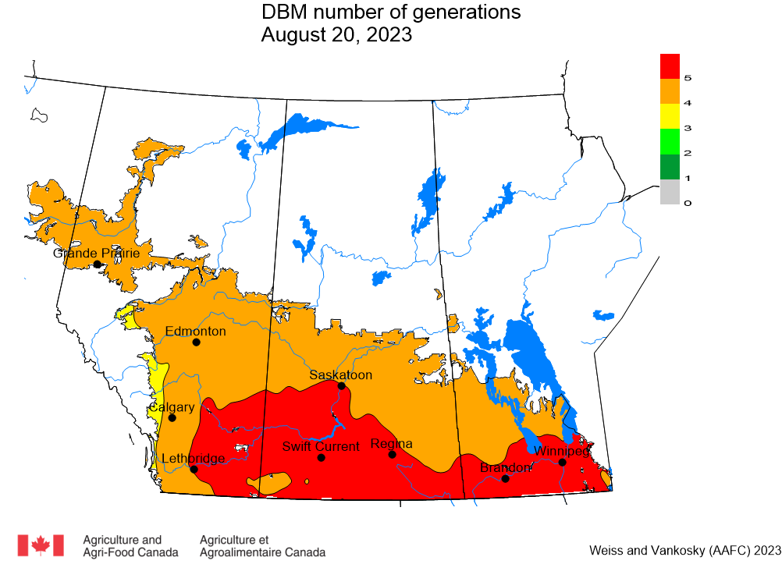 In a 'normal year' based on climate normals data (e.g., 30-year averages), we would expect the third generation of non-migrant diamondback moth to be occurring across the northern prairie region at this time of year, with the fourth generation occurring across the southern regions of the prairies (Fig. 2).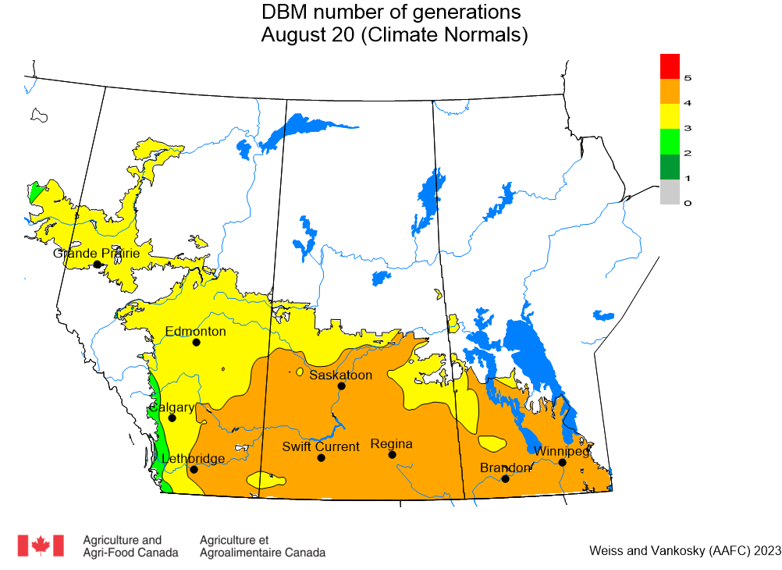 Considering advanced canola development, risk across the southern and central regions of the prairies associated with the development of a fifth generation of diamondback moth should be minimal. In regions where broccoli, rutabaga, and other brassica vegetables are grown and where crops are late to mature, these crops could still be at risk of damage from diamondback moth. Keep scouting for diamondback moth where crops are still green and could provide a desirable food source for developing diamondback moth larvae.
To scout for diamondback moth, estimate the number of diamondback moth larvae per m2 at several locations in a field. The economic threshold for diamondback moth is NOT based on pheromone traps or sweep net samples, but on the density of larvae per plant. For immature and flowering canola, the economic threshold is 100-150 larvae/m2. In podded canola, the economic threshold is 200-300 larvae/m2. See the Field Crop and Forage Pests guide and monitoring protocol for more information about scouting for diamondback moth.