The cereal leaf beetle larvae you see in wheat fields may be full of this week's Insect of the Week, Tetrastichus julis. This parasitoid wasp is an important natural enemy of cereal leaf beetle. Adult T. julis lay their eggs inside cereal leaf beetle larvae, leaving about five eggs to consume the beetle from the inside out. Adult parasitoids feed on nectar and aphid honeydew.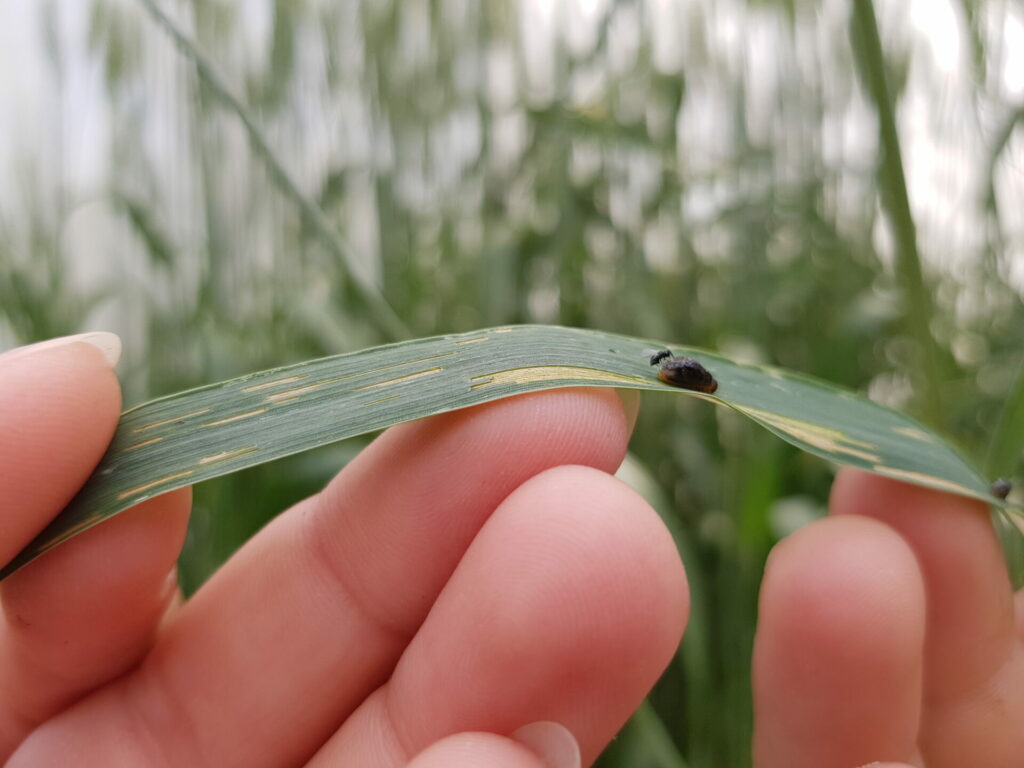 Mature T. julis larvae overwinter in infested cereal leaf beetle cocoons and emerge in spring to lay more eggs in cereal leaf beetle larvae. Where T. julis has become established, it can reduce cereal leaf beetle populations by 40 – 90%, preventing yield loss without using pesticides. See also the factsheet, Biological Control at its Best, Using the T. julis Wasp to Control the Cereal Leaf Beetle (en français).
AAFC researchers have assisted T. julis in establishing and spreading to help control cereal leaf beetle populations in the Canadian prairies! Reducing the use of insecticides (if possible), leaving refuge areas, and reducing tillage can all help protect populations of this valuable parasitoid in areas where they are already established in a field.
Biological information related to T. julis and cereal leaf beetle in field crops is available online. For more information, visit the cereal leaf beetle page from the Field Crop and Forage Pests and their Natural Enemies in Western Canada: Identification and Management field guide. (en français : Guide d'identification des ravageurs des grandes cultures et des cultures fourragères et de leurs ennemis naturels et mesures de lutte applicables à l'Ouest canadien).