Bracon cephi and Bracon lissogaster are the primary parasitoids that attack wheat stem sawfly and help to regulate wheat stem sawfly populations in North America. These closely related parasitoid species are described as idiobiont ectoparasitoids. The parasitoid larva, after hatching from an egg laid on the surface of the wheat stem sawfly larva, consume the entire host except for the host's head capsule and exoskeleton. Both Bracon species complete their development and pupate inside the wheat stem. Their pupae are generally found inside the exoskeleton or beside the remnants of their consumed wheat stem sawfly host. There are two generations of B. cephi and B. lissogaster per year.  The first generation completes its lifecycle then exits the wheat stem to locate a new host to parasitize.  The second generation overwinters within the wheat stem.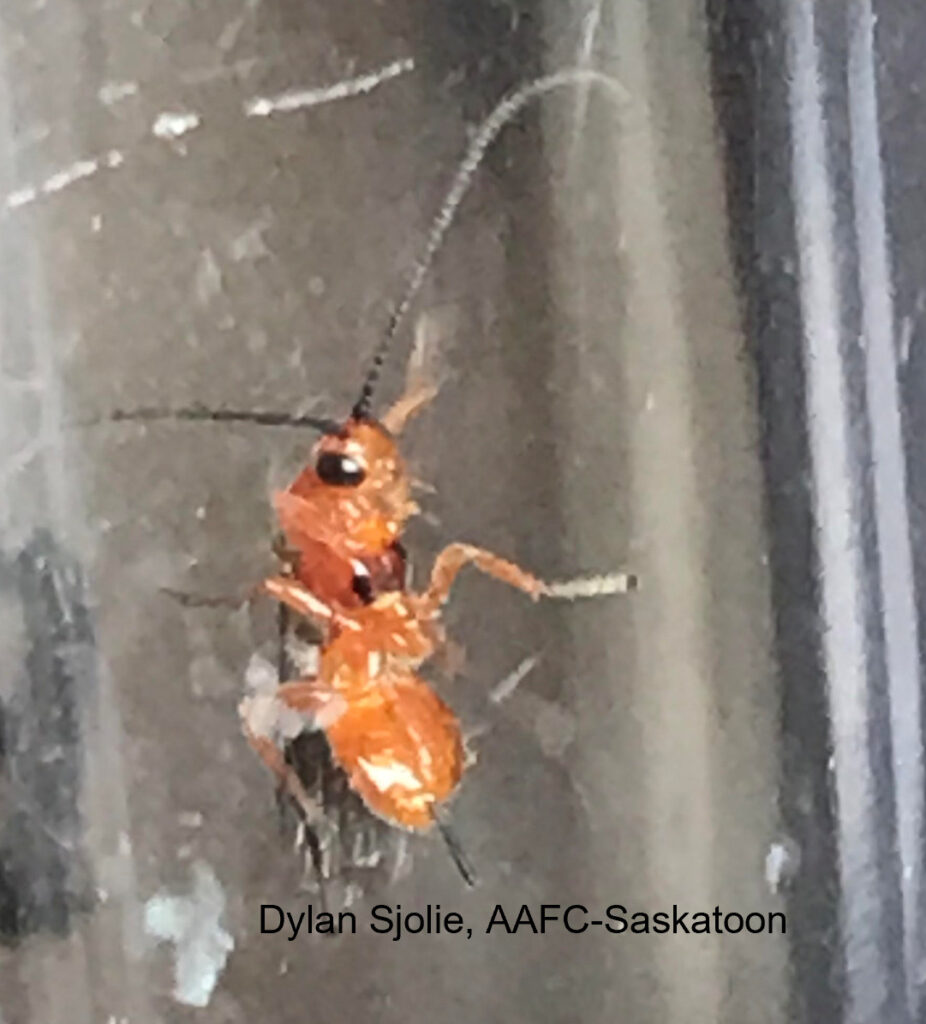 Bracon cephi and B. lissogaster are similar in appearance. The wasps are typically 2-15 mm long and brown in colour. They have a narrow waist connecting the abdomen to the thorax and the combined length of head plus thorax is equal to the length of the abdomen.  These parasitoid wasps have long antennae and two pairs of transparent wings. Females have a noticeable ovipositor protruding from the end of the abdomen.
Parasitoid population dynamics and efficacy are influenced by crop management practices. Parasitoids can be conserved by increasing the height of stubble when harvesting and reducing insecticide applications in grass ditches where natural enemies of the wheat stem sawfly are abundant.
For more pictures and information about the natural enemies of the wheat stem sawfly, check out our past Insect of the Week post about Bracon cephi!