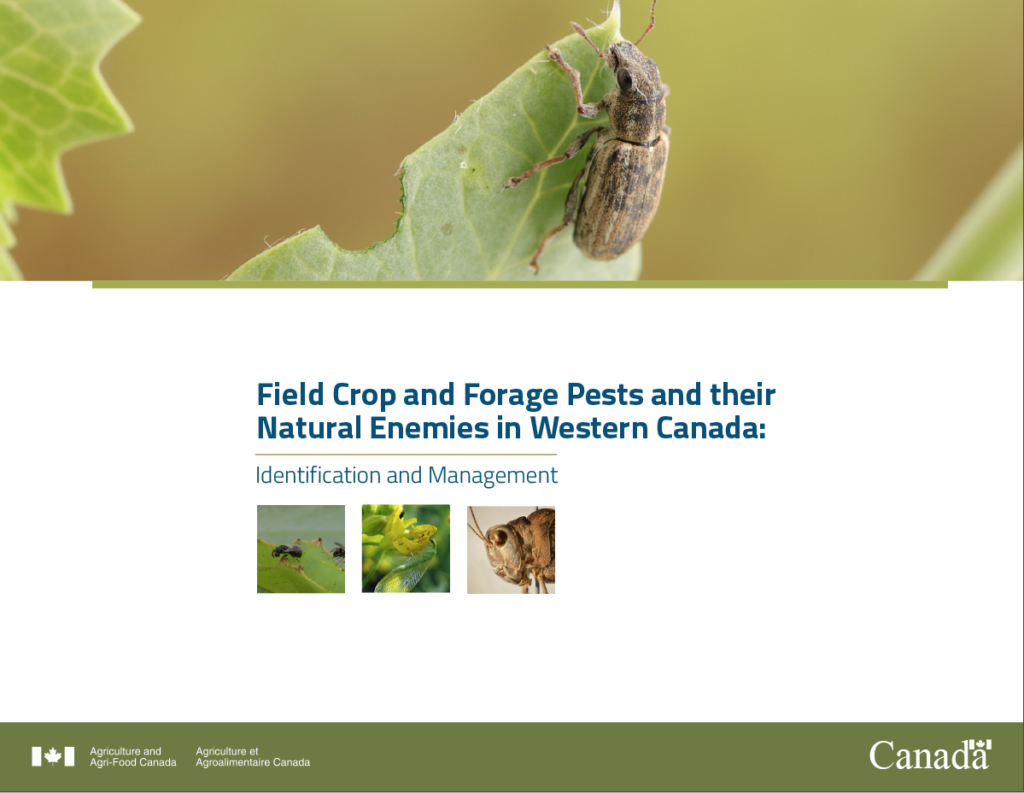 Field Crop and Forage Pests and their Natural Enemies in Western Canada: IDENTIFICATION AND MANAGEMENT FIELD GUIDE
Whether you're a new or experienced producer, agrologist or field scout in Western Canada, "What's 'bugging' this crop?" and "Does it need to be controlled?" are typical questions raised when scouting for pests in a field of grain, oilseed, pulse or forage.
This new, 162-page, full-colour field guide, now available online, is designed to help you make informed decisions in managing over 90 harmful pests of field and forage crops in Western Canada. Better decision making helps save time and effort and eliminates unnecessary pesticide applications to improve your bottom line. The guide also helps the reader identify many natural enemies that prey on or parasitize pest insects. Recognizing and fostering populations of natural enemies will enhance their role in keeping or reducing pest populations below economic levels.
Description of over 90 economic pests and 30+ natural enemy species or species groups:
diagnostic characteristics

monitoring/scouting techniques

control options: biological, cultural and chemical
Large full-colour photos depicting various life stages of featured pests and natural enemies
Overview of Integrated Pest Management (IPM) strategies
Natural enemy and pest relationships
Author: Hugh Philip, 2015
Published by: Agriculture and Agri-Food Canada, Saskatoon, SK [with funding from the Pest Management Centre's Pesticide Risk Reduction Program]
Downloadable formats: pdf and pdf-enhanced [features internal hyperlinks allowing the reader to quickly jump to referenced pages]
Languages: Available in English and French
French title: Guide d'identification des ravageurs des grandes cultures et des cultures fourragères et de leurs ennemis naturels et mesures de lutte applicables à l'Ouest canadien
Dimensions: 27.9 x 21.6 cm (landscape)
Document numbers – English pdf
Catalogue Number: A59-23/2018E-PDF

Department Number: AAFC No. 12766E
Document numbers – French pdf
Catalogue Number: A59-23/2018F-PDF

Department Number: AAFC No. 12766F