Flea Beetles (Chrysomelidae: Phyllotreta species)– As newly seeded stands begin to emerge, the need for in-field scouting increases.  Review Wk05 for flea beetle information, visual guides to help estimate percent of cotyledon damage, and links to the Insect Field Guide.  
This week we also link to Canola Watch which released flea beetle scouting and management tips for canola.  Provincial entomologists, flea beetle researchers and Canola Council of Canada specialists all provided input into this article.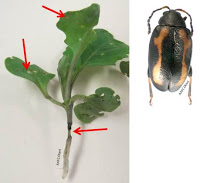 Remember, the Action Threshold for flea beetles on canola is 25% of cotyledon leaf area consumed.  Watch for shot-hole feeding in seedling canola but also watch the growing point and stems of seedlings which are particularly vulnerable to flea beetle feeding.