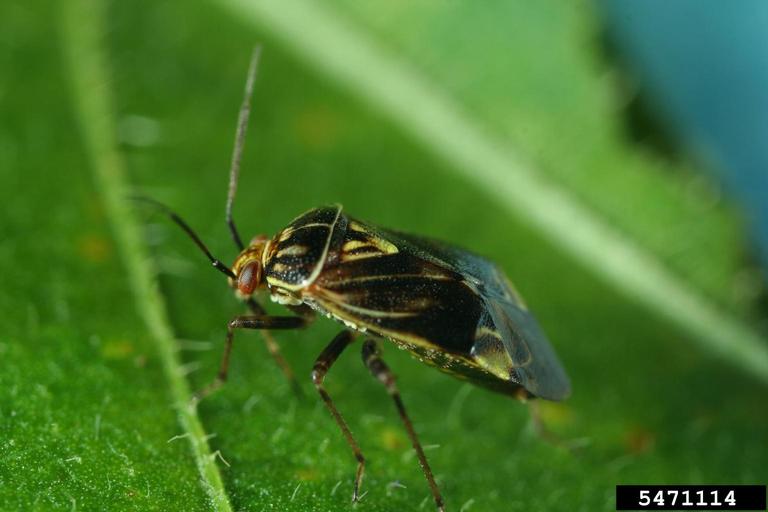 On the Canadian prairies, there are several native lygus bug species that cause crop damage including Lygus borealis, L. keltoni, pale legume bug (L. elisus), tarnished plant bug (L. lineolaris) and western tarnished plant bug (L. hesperus). The species vary by preferred host plants, region, and seasonally. These insects feed on both cultivated and wild plants such as canola, alfalfa, soybeans, sunflowers, other crop plants and weeds.
Adult and nymph lygus bugs have mouthparts that allow them to pierce and suck liquids out of their plant hosts. Their desired meal usually includes new growth and reproductive parts such as buds, flowers and young seeds. Having punctured the plant, lygus bugs will inject digestive enzymes and suck out the plant juices. Crop damage includes buds and flowers falling off, incomplete seed pod maturation, misshapen fruit and seeds that collapse and shrink.
Adult lygus bugs are 6 millimetres (1/4 inch) long and vary in colour, ranging between pale green to reddish, brown to black, and uniform to mottled. A distinct triangular or V-shaped marking on the upper centre of their backs and wingtips is also present and can be used to distinguish them from other Hemiptera. Mature nymphs share similar colouration to adults, but with five black dots on their thorax and abdomen.
Biological and monitoring information related to lygus bugs in field crops is posted by the provinces of Manitoba and Alberta. The Prairie Pest Monitoring Network's monitoring protocol is also available online. For more information, visit the lygus bug page in the Field Crop and Forage Pests and their Natural Enemies in Western Canada: Identification and Management field guide. (en français : Guide d'identification des ravageurs des grandes cultures et des cultures fourragères et de leurs ennemis naturels et mesures de lutte applicables à l'Ouest canadien).