Cool, wetter growing seasons generally favour wheat midge development. Wheat midge larvae overwinter in the soil in larval cocoons. Adequate soil moisture (May-June) is required to terminate diapause, resulting in movement of larvae to the soil surface. The wheat midge model was run to determine potential numbers of overwintering wheat midge larvae.
During May and June weather conditions were cooler and wetter than normal across most of Alberta. These model runs indicated that weather conditions that would promote diapause termination and movement of larvae to the soil surface were favourable, and may have resulted in higher than average adult populations in early July. Conversely, warm, dry conditions occurred across most of Manitoba and were not suitable for larval development during May and June. Figure 1 represents the potential number of larval cocoons (as of August 17, 2020). Densities of wheat midge larval cocoons were predicted to be greater across Alberta than Saskatchewan and Manitoba (Fig. 1). Figure 2 provides a comparison of densities for the same time period in 2019. Low densities in 2019 were attributed to well below normal precipitation during the period of April to June (Fig. 2).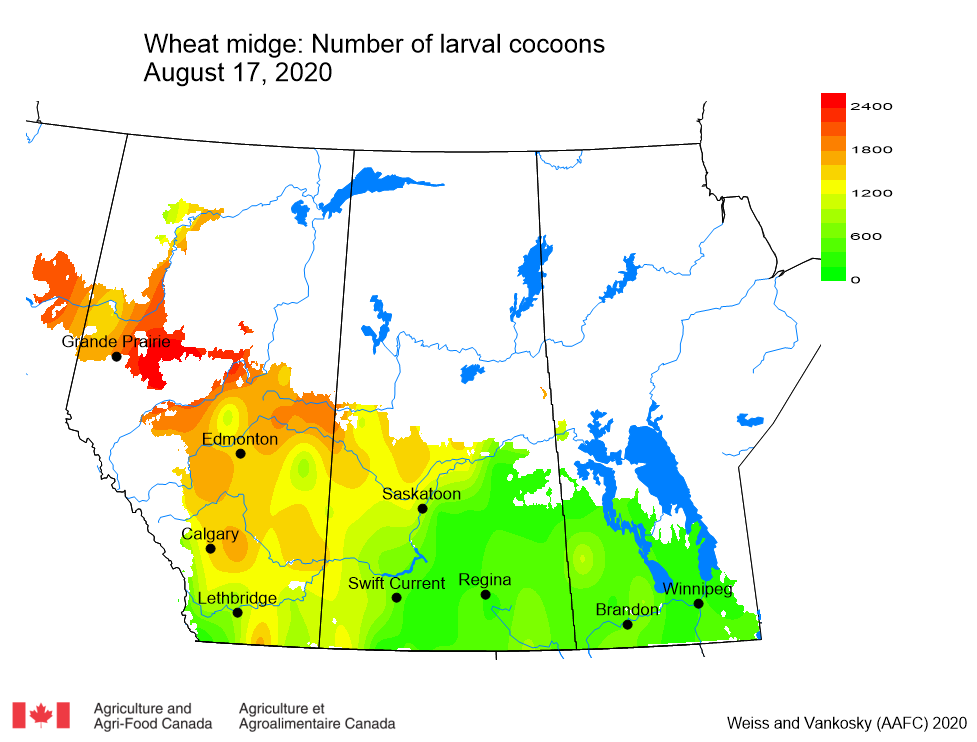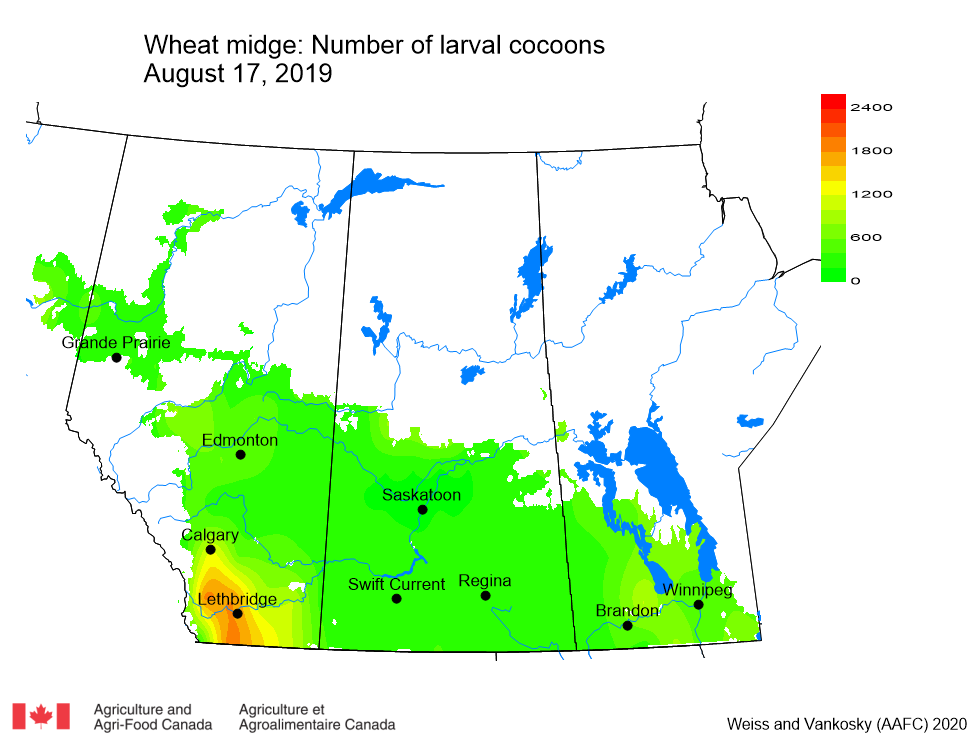 Review information supporting in-field monitoring for wheat midge (Fig. 3) and its parasitoid, Macroglenes penetrans (Fig. 4), posted back on Week 14 of the 2020 growing season.
Information related to wheat midge biology and monitoring can be accessed by linking to your provincial fact sheet (Saskatchewan Agriculture or Alberta Agriculture & Forestry). A review of wheat midge on the Canadian prairies was published by Elliott, Olfert, and Hartley in 2011.
More information about Wheat midge can be found by accessing the pages from the new "Field Crop and Forage Pests and their Natural Enemies in Western Canada: Identification and Field Guide". View ONLY the Wheat midge pages but remember the guide is available as a free downloadable document as both an English-enhanced or French-enhanced version.