The continued warm temperatures have resulted in the rapid development of wheat midge populations. Where present, wheat midge populations are predicted to be predominantly in the egg stage across most of the prairies (Fig. 1). This is a substantial change from last week where only 12 % of the population was predicted to be in the egg stage. The initial appearance of larvae (in wheat heads) is predicted to be occurring (Fig. 2).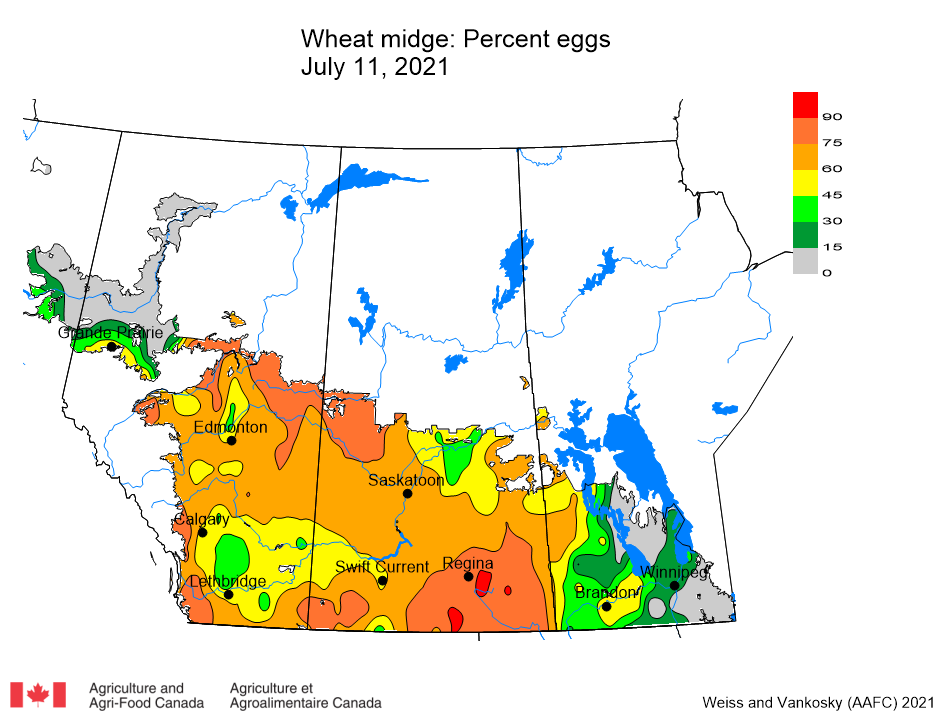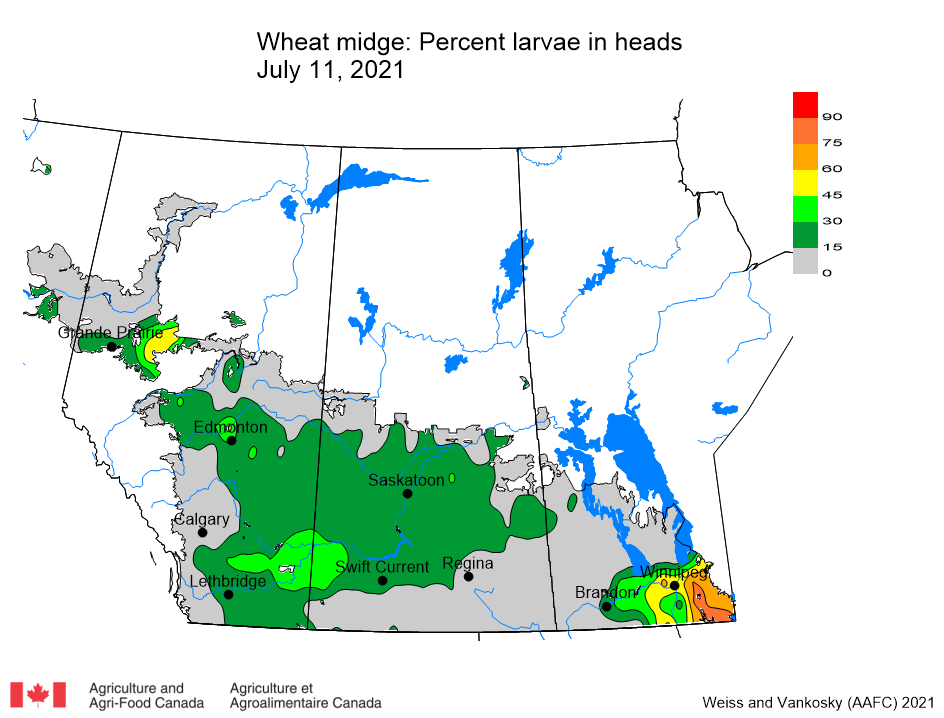 The model was projected to July 27 to determine potential development at Regina (Fig. 3), Lacombe (Fig. 4), and Grande Prairie (Fig. 5) over the next two weeks. The model output suggests that oviposition will continue to increase over the next 5-7 days and should peak sometime this week. Larvae (Sm L1-2) are expected to complete development by the end of July. Macroglenes penetrans, a parasitoid of wheat midge, is active in wheat fields when wheat midge adults are present. Simulation runs indicate that the parasitoid has begun to appear in wheat crops in fields near Regina.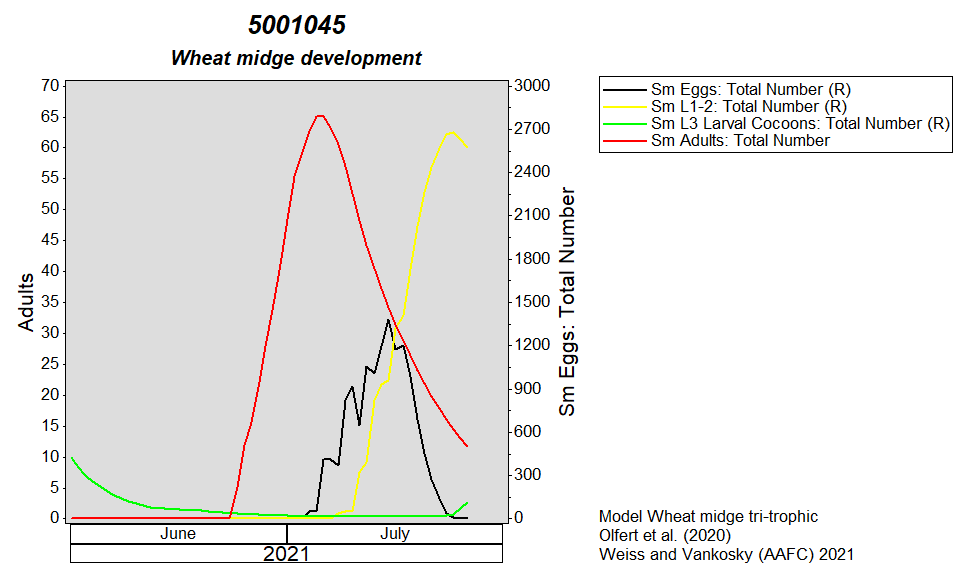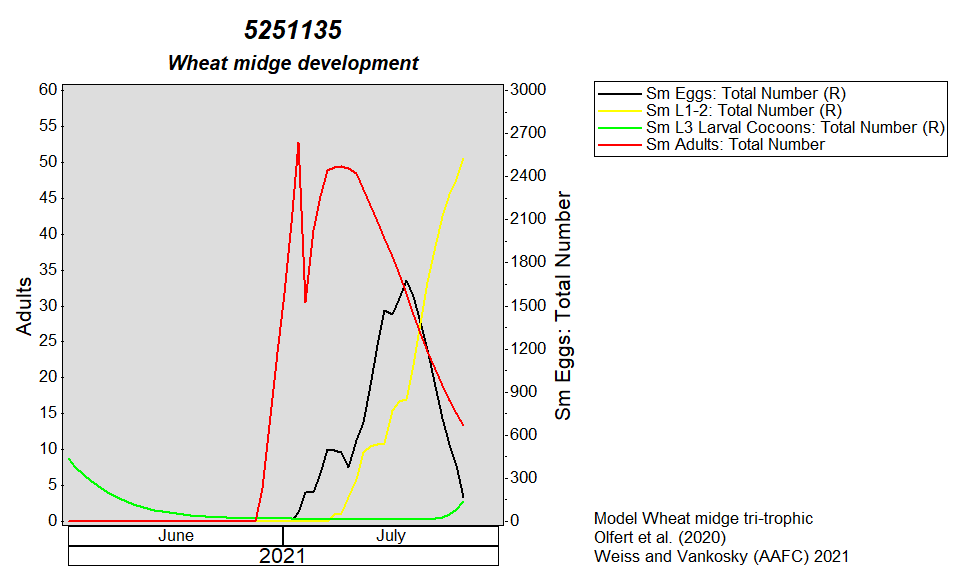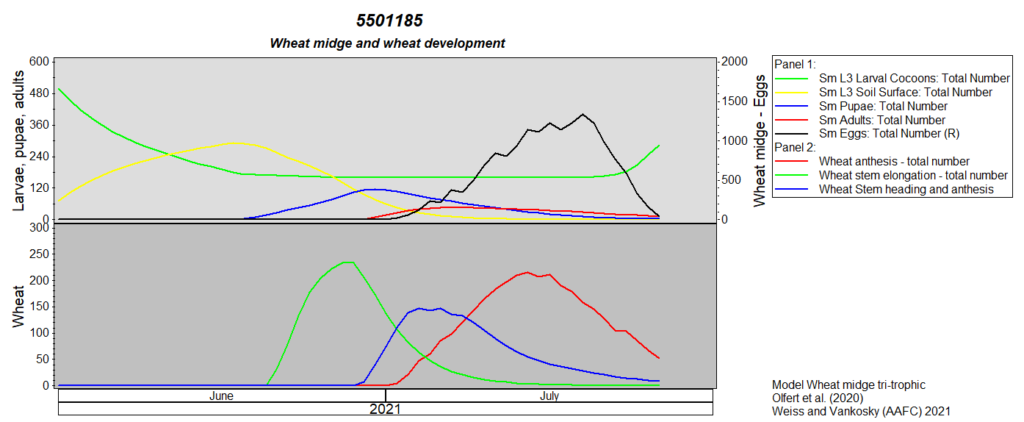 If not already underway, scout for wheat midge adults this week and especially in regions where higher densities are predicted to occur. It is especially important to be monitoring for adults at dusk in regions expected to be at high risk, based on the 2020 survey which is mapped here.
Monitoring: When scouting wheat fields, pay attention to the synchrony between flying midge and anthesis.
In-field monitoring for wheat midge should be carried out in the evening (preferably after 8:30 pm or later) when the female midges are most active. On warm (at least 15 ºC), calm evenings, the midge can be observed in the field, laying their eggs on the wheat heads (Fig. 7). Midge populations can be estimated by counting the number of adults present on 4 or 5 wheat heads. Inspect the field daily in at least 3 or 4 locations during the evening.
REMEMBER that in-field counts of wheat midge per head remain the basis of the economic threshold decision. Also remember that the parasitoid, Macroglenes penetrans (Fig. 8), is actively searching for wheat midge at the same time. Preserve this parasitoid whenever possible and remember insecticide control options for wheat midge also kill these beneficial insects who help reduce midge populations.
Economic Thresholds for Wheat Midge:
a) To maintain optimum No. 1 grade: 1 adult midge per 8 to 10 wheat heads during the susceptible stage.
b) To maintain yield only: 1 adult midge per 4 to 5 heads. At this level of infestation, wheat yields will be reduced by approximately 15% if the midge is not controlled.
Inspect the developing kernels for the presence of larvae and larval damage.
Wheat midge was featured as the Insect of the Week in 2021 (for Wk07). Be sure to also review wheat midge and its doppelganger, the lauxanid fly, featured as the Insect of the Week in 2019 (for Wk11) – find descriptions and photos to help with in-field scouting! Additionally, the differences between midges and parasitoid wasps were featured as the Insect of the Week in 2019 (for Wk12). Remember – not all flying insects are mosquitoes nor are they pests! Many are important parasitoid wasps that actually regulate insect pest species in our field crops OR pollinators that perform valuable ecosystem services!
Information related to wheat midge biology and monitoring can be accessed by linking to your provincial fact sheet (Saskatchewan Agriculture or Alberta Agriculture & Forestry). A review of wheat midge on the Canadian prairies was published by Elliott, Olfert, and Hartley in 2011.
Alberta Agriculture and Forestry has a YouTube video describing in-field monitoring for wheat midge.
More information about wheat midge can be found by accessing the pages from the new "Field Crop and Forage Pests and their Natural Enemies in Western Canada: Identification and Field Guide". View ONLY the Wheat midge pages but remember the guide is available as a free downloadable document as both an English-enhanced or French-enhanced version.