Growers are out seeding, and the cutworms are ready for it – the time to start scouting for cutworms is now! Scouting occurs by manually examining plant foliage and digging in the soil near damaged or missing plants – focus on transition zones between damaged and healthy plants. Even if you have not started seeding a field yet, consider checking volunteer plants for cutworms or feeding damage. General cutworm monitoring protocols can be found on the Monitoring Protocols page. Species-specific protocols can be found in the Cutworm Pests of Crops on the Canadian Prairies.
There are over 20 cutworm species that can cause economic damage to your crop, each with different feeding behaviour, preferred hosts, and lifecycle. Cutworms will feed on prairie-grown commodities including canola, mustard, wheat, barley, triticale, peas, alfalfa, clover, fescue, and timothy. Species identification is especially important! It helps growers determine how and when to scout, whether the cutworm species is found above-ground (climbing) or below-ground, recognize damage, and choose appropriate control options. The species of cutworm will also determine the time of day for monitoring and applying controls.
Action and economic thresholds exist for many of the cutworm species – please use them. Thresholds help control costs by eliminating unnecessary and non-economic spraying and reduce your impact on non-target insects. These non-target insects include the natural enemies that work in the background to control cutworm populations!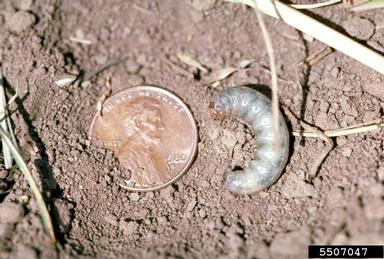 This week's Insect of the Week is the Pale Western Cutworm. This cutworm feeds below ground, with larvae hatching in late April through early May. Young larvae tunnel through the soil, producing holes on newly emerged shoots and furled leaves. Older larvae will sever plants just below the soil surface and may pull and eat the severed shoots underground. Mature larvae are a pale greenish gray, with a yellow, black striped head.