The grasshopper (Acrididae: Melanoplus sanguinipes) model predicts development using biological parameters known for the pest species and environmental data observed across the Canadian prairies on a daily basis. Model outputs provided below as geospatial maps are a tool to help time in-field scouting on a regional scale yet local development can vary and is only accurately assessed through in-field scouting.
Model simulations were used to estimate grasshopper development as of August 21, 2022. Potential risk continues to be greatest across central and southern regions of Saskatchewan and southeastern Alberta. Simulations indicate that prairie populations are in the adult stage and that females are laying eggs in the soil. Since last week, model simulations indicate that oviposition is now occurring across all of the prairies (Fig. 1). Earlier oviposition can result in above-average production of eggs and increased overwintering survival of eggs.
The oviposition index provides a method to assess where egg production is greatest; higher oviposition index values indicate where egg production is greatest. Model runs for the 2022 growing season (April 1 – August 21) predict that oviposition rates have been greatest across a large region that extends from east of Lethbridge to Regina and north to Saskatoon (Fig. 1).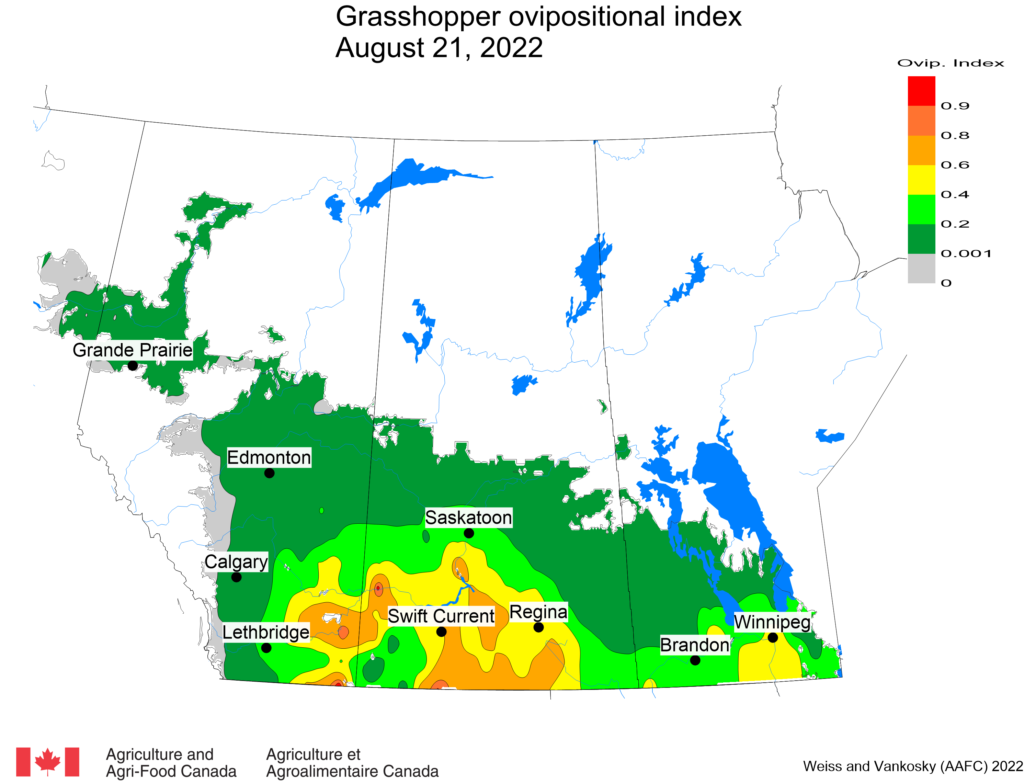 Grasshopper Scouting Tips:
● Review grasshopper diversity and photos of nymphs, adults, and non-grasshopper species to aid in-field scouting from egg hatch and onwards.
● Access the PPMN's Grasshopper Monitoring Protocol as a guide to help implement in-field monitoring.
● Review grasshopper lifecycle, damage and scouting and economic thresholds to support sound management decisions enabling the preservation of beneficial arthropods and mitigation of economic losses.
Biological and monitoring information (including tips for scouting and economic thresholds) related to grasshoppers in field crops is posted by Manitoba Agriculture and Resource Development, Saskatchewan Agriculture, Alberta Agriculture and Forestry, the BC Ministry of Agriculture, and the Prairie Pest Monitoring Network. Also, refer to the grasshopper pages within the "Field Crop and Forage Pests and their Natural Enemies in Western Canada: Identification and management field guide" (2018) accessible as a free downloadable PDF in either English or French on our new Field Guides page. Review the historical grasshopper maps based on late-summer in-field counts of adults performed across the prairies.