Wheat midge (Sitodiplosis mosellana) overwinter as larval cocoons in the soil. Soil moisture conditions in May and June can have significant impacts on wheat midge emergence. Adequate rainfall promotes termination of diapause and movement of larvae to the soil surface where pupation occurs. Insufficient rainfall in May and June can result in delayed movement of larvae to the soil surface. Elliott et al. (2009) reported that wheat midge emergence was delayed or erratic if rainfall did not exceed 20-30 mm during May. Olfert et al. (2016) ran model simulations to demonstrate how rainfall impacts wheat midge population density. The Olfert et al. (2020) model indicated that dry conditions may result in:
a. Delayed adult emergence and oviposition
b. Reduced numbers of adults and eggs
Based on averages across the three provinces, 56% of the wheat midge population is predicted to be in the larval cocoon stage (in the soil) and 44% are in the pupal stage. As a result of suitable temperature and rainfall, wheat midge model simulations indicate that more than 70% of the larval population has moved to the soil surface in central Alberta and northwestern and southeastern Saskatchewan (Fig. 1). Dryer conditions in Manitoba and the Peace River region continue to delay movement of larvae to the soil surface.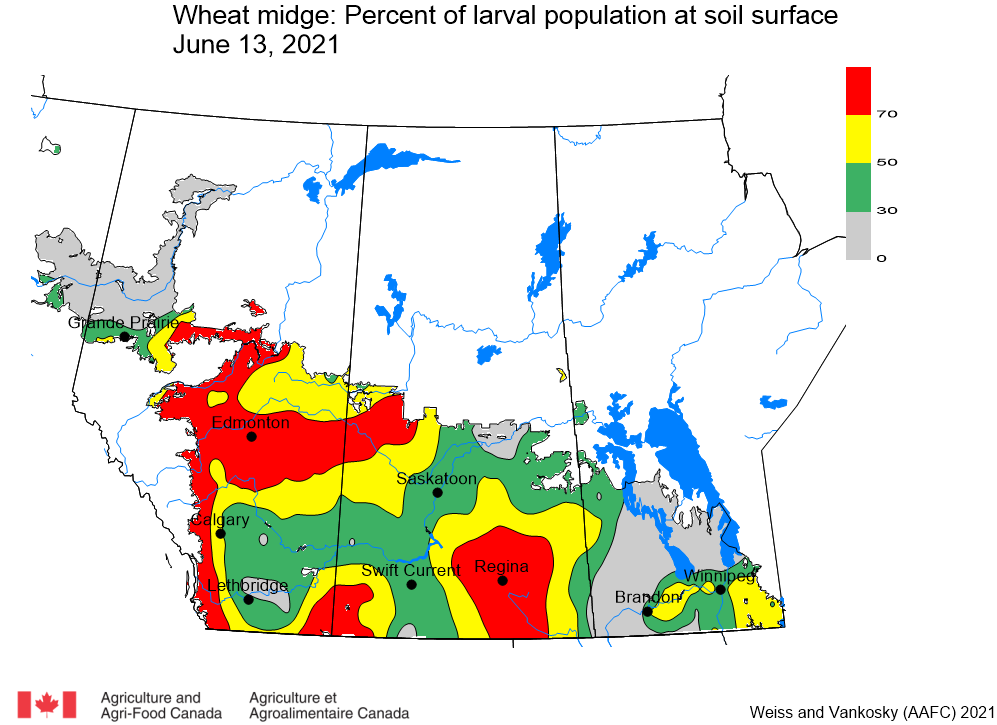 Information related to wheat midge biology and monitoring can be accessed by linking to your provincial fact sheet (Saskatchewan Agriculture or Alberta Agriculture & Forestry). A review of wheat midge on the Canadian prairies was published by Elliott, Olfert, and Hartley in 2011.
Alberta Agriculture and Forestry has a YouTube video describing in-field monitoring for wheat midge.
More information about wheat midge can be found by accessing the pages from the new "Field Crop and Forage Pests and their Natural Enemies in Western Canada: Identification and Field Guide". View ONLY the Wheat midge pages but remember the guide is available as a free downloadable document as both an English-enhanced or French-enhanced version.