Wheat midge model simulations to August 8, 2021, predict that wheat midge populations should be in one of two larval stages. Where wheat midge is present, most larvae (55 %) will be in wheat heads, feeding on developing kernels. Development of this stage is predicted to be greatest across eastern Saskatchewan. Larvae that have completed development in wheat heads will be dropping to the soil where they will transition to larval cocoons (44 % of the prairie population). The occurrence of larval cocoons should be greatest across northwestern Saskatchewan and eastern Alberta. This stage will overwinter in the soil.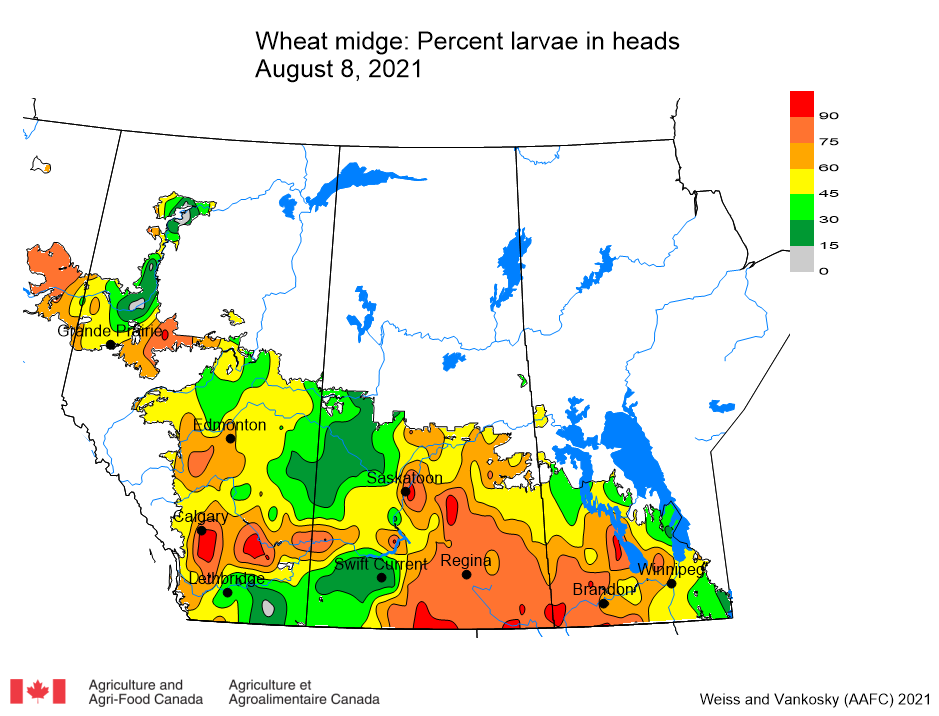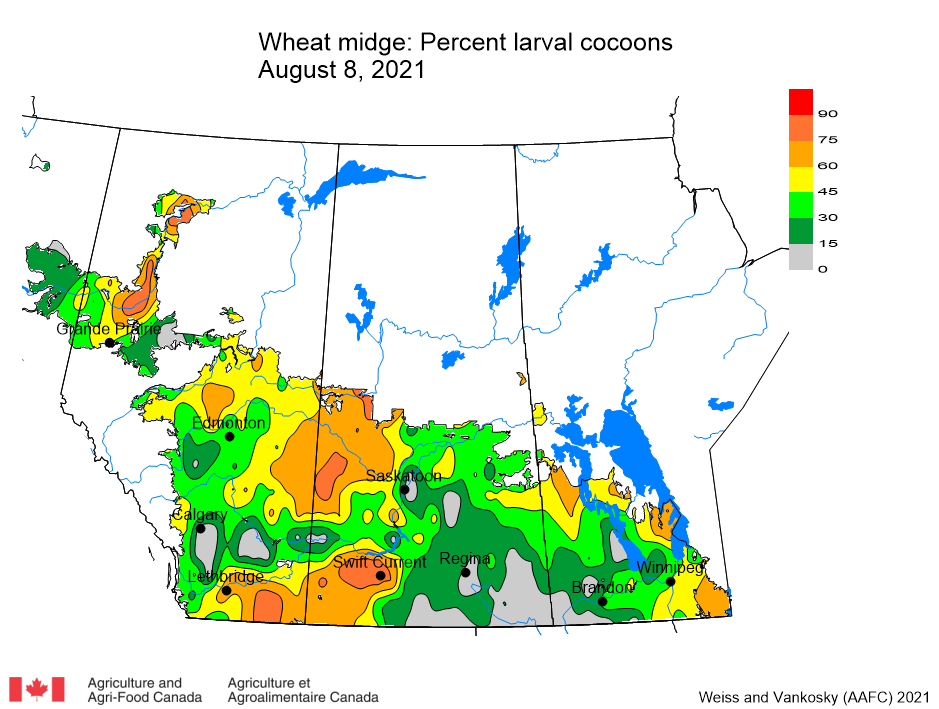 Monitoring: The window for scouting and application of the economic threshold for wheat midge (i.e., during the synchrony between wheat anthesis and midge flight period) has now drawn to a close for 2021.
Wheat midge was featured as the Insect of the Week in 2021 (for Wk07). Be sure to also review wheat midge and its doppelganger, the lauxanid fly, featured as the Insect of the Week in 2019 (for Wk11) – find descriptions and photos to help with in-field scouting! Additionally, the differences between midges and parasitoid wasps were featured as the Insect of the Week in 2019 (for Wk12). Remember – not all flying insects are mosquitoes nor are they pests! Many are important parasitoid wasps that actually regulate insect pest species in our field crops OR pollinators that perform valuable ecosystem services!
Information related to wheat midge biology and monitoring can be accessed by linking to your provincial fact sheet (Saskatchewan Agriculture or Alberta Agriculture & Forestry). A review of wheat midge on the Canadian prairies was published by Elliott, Olfert, and Hartley in 2011.
Alberta Agriculture and Forestry has a YouTube video describing in-field monitoring for wheat midge.
More information about wheat midge can be found by accessing the pages from the new "Field Crop and Forage Pests and their Natural Enemies in Western Canada: Identification and Field Guide". View ONLY the Wheat midge pages but remember the guide is available as a free downloadable document as both an English-enhanced or French-enhanced version.