The case of the innocuous versus the evil twin: When making pest management decisions, be sure that the suspect is a actually a pest. This can be challenge since insects often mimic each other or look very similar. An insect that looks, moves and acts like a pest may in fact be a look-alike or doppelganger.
Doppelgangers may be related (e.g. same genus) or may not be related, as in the case monarch butterflies (Danaus plexippus) and viceroys (Limenitis achrippus). In some cases, doppelgangers are relatively harmless. In others, the doppelganger is a pest too yet behaviour, lifecycle and hosts may be different.
Correctly identifying a pest enables selection of the most accurate scouting or monitoring protocol. Identification and monitoring enables the application of economic thresholds. It also enables a producer to select and apply the most effective control option(s) including method and timing of application. For the rest of the growing season, the Insect of the Week will feature insect crop pests and their doppelgangers.
The case of the pea weevil and other Sitona species doppelgangers
Weevils of the genus Sitona are broad-nosed weevils that are pests of various legume crops, including field pea, faba bean, alfalfa and sweet clover. Sitona larvae attack the roots of the host plant and usually consume the root nodules and the enclosed symbiotic bacteria that fix nitrogen. Adult Sitona weevils consume plant leaves resulting in 'U'-shaped feeding notches. Sitona species known to occur in Canada include:
• Sitona lineatus – pea leaf weevil (Fig. 1), has two primary hosts: field pea and faba bean.
• Sitona cylindricollis – clover root weevil or sweet clover weevil (Fig. 4).
• Sitona hispidulus – clover root curculio* (Fig. 3), a clover pest.
• Sitona lineellus – alfalfa curculio (Fig. 5), eats alfalfa, vetch and field pea.
• Sitona obsoletus (=S. flavescens = S. lepidus) – clover root curculio*, a clover pest (Fig. 6).
* Note that common names can be used to describe more than one species and can be confusing.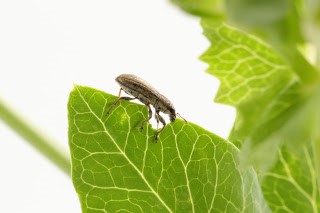 The above five Sitona species found in Canada are doppelgangers of each other for several reasons:
1. Similar in size and appearance – Require a taxonomic key and microscope to accurately identify to species. Notable difference is Sitona hispidulus which has hairy elytra compared to the other four species which lack hair on their elytra (Fig. 2).
2. Sitona weevils share primary and secondary hosts – Pea leaf weevils must feed on primary hosts (i.e., field pea and faba bean) to attain sexual maturation AND the larvae must feed on primary hosts to successfully develop. However, early in the spring and again in the fall, pea leaf weevils feed on virtually any species of legume, including the primary host plants of the other four Sitona species.
3. Foliar feeding damage is similar – According to Weich and Clements (1992), "careful scrutiny" is required to differentiate the feeding damage caused by different Sitona species feeding on the same host plant. Therefore, it is important to collect adult weevils for identification to confirm which species is responsible for foliar damage.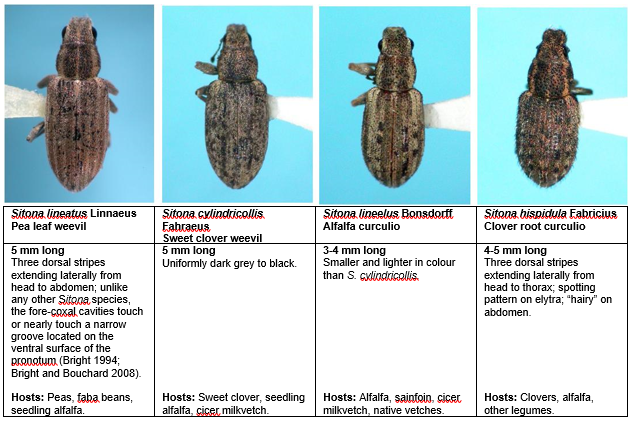 Species pages for all five species available by searching the species names in the E.H. Strickland Entomology Museum: http://www.entomology.museums.ualberta.ca/searching.php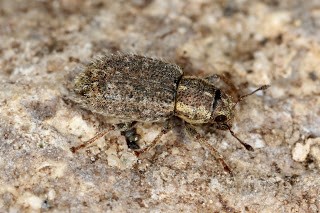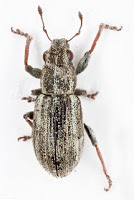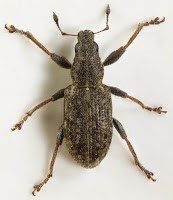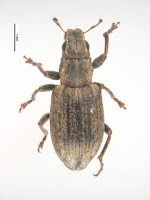 More information about pea leaf weevil (Sitona lineatus), and sweetclover weevil (Sitona cylindricollis) can be accessed on the Insect of the Week page. Information related to crop pests and their natural enemies can be found in the newly updated Field Guide and Cutworm Guide. Both are available for free download on our Insect Field Guide and Cutworm Field Guide pages.
Meghan Vankosky (@DrVanbugsky)