Two species, Phyllotreta striolata and P. cruciferae, are the most chronic and economically important flea beetle pests of cruciferous crops in western Canada. Bioclimate simulation models for the two flea beetle species were developed to assess how climatic factors influence shifts in their geographic distribution and relative abundance. Economic risk was associated with populations in the orange and red zones (Figs. 1-4). It is crucial to note that the following information is NOT based on flea beetle densites BUT IS INSTEAD reflecting the suitability of environmental factors for P. striolata and P. cruciferae to prosper in highlighted areas of the following maps.
This spring has been approximately 1 °C cooler than normal. Recent rain (May 23-24) has resulted in precipitation amounts that are normal to above normal (30-day total) across Alberta and Saskatchewan. Simulations were run to determine how the two flea beetle species might respond to cooler, wetter conditions (compared to average growing seasons). Based on average temperature and precipitation (based on long term climate normals) risk associated with P. cruciferae is most prevalent across the southern prairies and risk related to P. striolata tends to be greatest across the Parkland and Peace River regions (Figs. 1 and 2).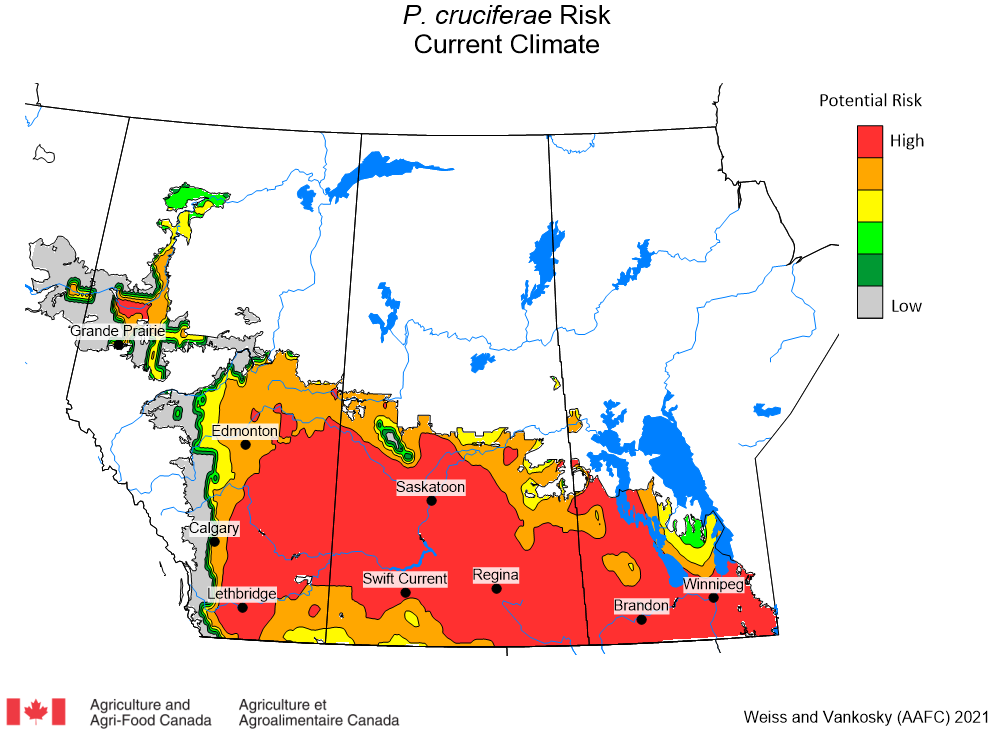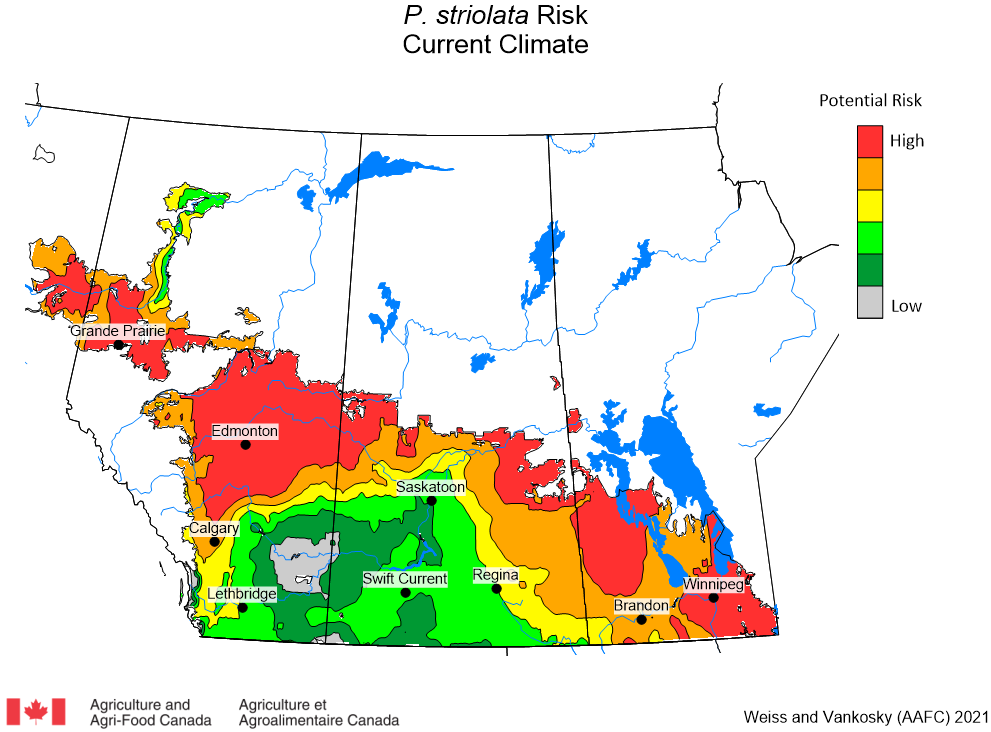 For both species, cooler/wetter conditions generally could result in reduced risk and southward shifts in distribution (Figs. 3 and 4). Cooler and wetter than average growing seasons were predicted to have less negative impact on P. striolata than P. cruciferae. For example, Peace River populations of P. striolata are predicted to present reduced risk with cooler, wetter conditions (compared to average climate). Under similar conditions, P. cruciferae was predicted to have significantly reduced risk in the Peace River region. Wetter than average conditions in Manitoba may result in reduced risk from P. cruciferae and P. striolata. Olfert et al. (2017) reported that both species were more sensitive to temperature than moisture. Potential risk related to warmer temperatures was greater for P. cruciferae than P. striolata. Producers should monitor flea beetle species composition, crop stage and weather to assess potential flea beetle risk to cruciferous crops.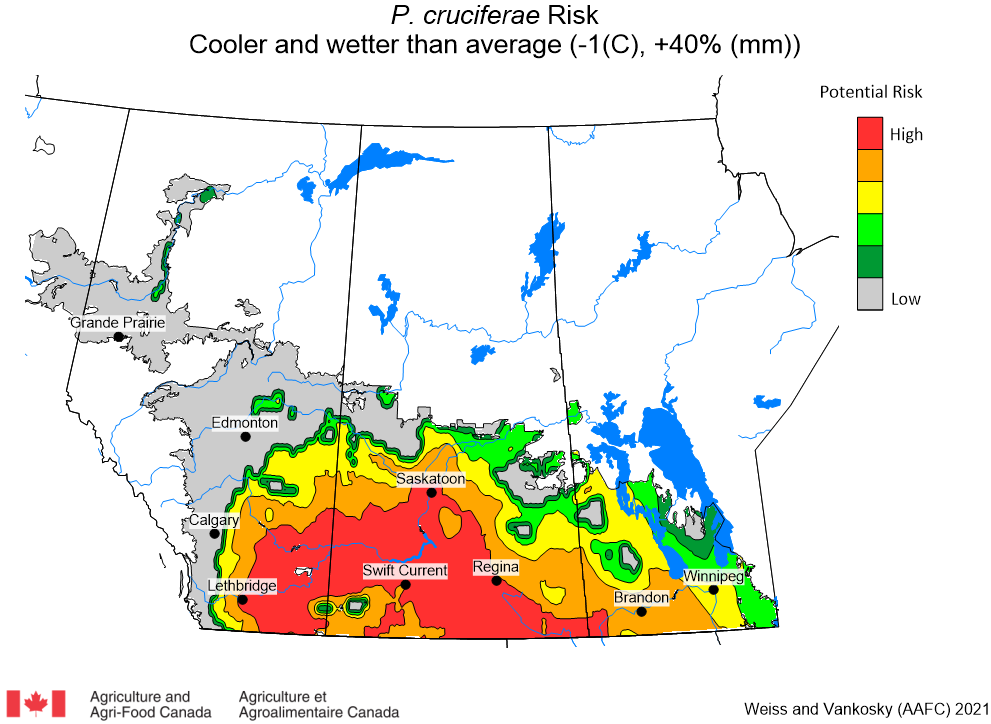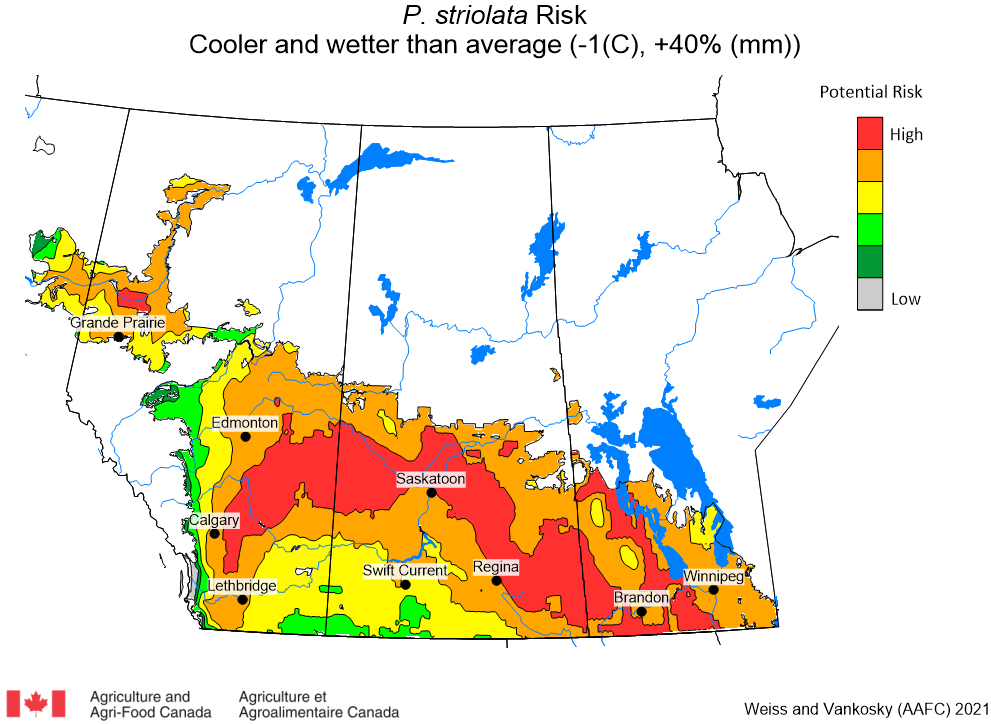 If flea beetle densities are high, seedling damage levels can advance quickly – even within the same day! The cotyledon stage of canola is vulnerable to flea beetle feeding. Review photos of flea beetle feeding damage posted earlier in the Weekly Update (Wk 02 – May 14, 2021) to help assess percent defoliated and to apply the action threshold of 25 % leaf area of cotyledons consumed plus flea beetles were the Insect of the Week (Wk 02 – May 10)!
Access biological and pest management information posted by Alberta Agriculture and Forestry, Saskatchewan Agriculture, or Manitoba Agriculture and Resource Development, or the Canola Council of Canada's Canola Encyclopedia. Refer to the flea beetle page within the "Field Crop and Forage Pests and their Natural Enemies in Western Canada: Identification and management field guide" (Philip et al. 2018) as an English-enhanced or French-enhanced version.