The European corn borer (ECB; Ostrinia nubilalis), can be an important pest of corn. Despite its name, ECB is actually a generalist feeder, having a wide range of hosts.
The recent confirmation of ECB resistance to Cry1F Bt corn in Nova Scotia has increased the need to monitor this pest across Canada. With so many new emerging crops being grown in Canada that are also hosts for ECB (e.g. hemp, cannabis, quinoa, hops, millet and others), there is no better time for us to look at this pest across the Canadian ag landscape.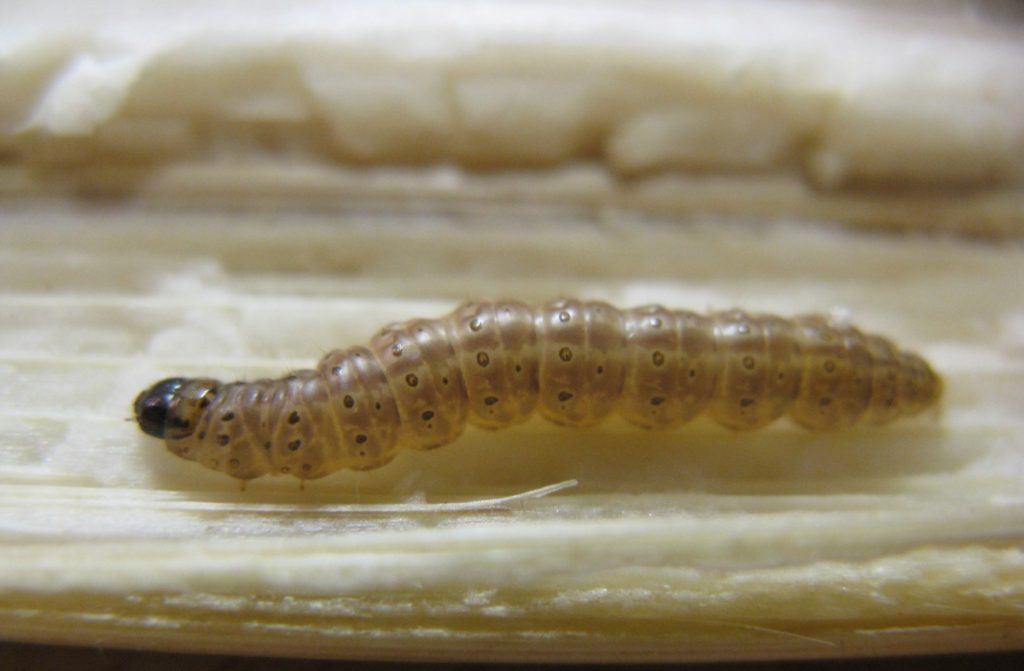 To monitor for ECB nationwide, the Insect Surveillance Community of Practice of the Canadian Plant Health Council has developed a harmonized monitoring protocol for European corn borer across all hosts. The protocol can be used to report ECB eggs, larvae or damage in any host crop across Canada. Our goal is to better understand the distribution and abundance of ECB in Canada, detect significant infestations, capture observations on any hosts and determine if ECB is shifting to other emerging crops like hops, quinoa, millet, hemp, and others. This harmonized protocol has been designed to complement protocols that are already in use to make management decisions.
Whether you are scouting corn, quinoa, hemp, millet, potatoes, apples, or other crops susceptible to ECB, we encourage you to try the harmonized monitoring protocol and report the data from your field or research plots using the free Survey123 app (available for both desktop and mobile devices):
European Corn Borer Monitoring for All Host Crops: https://arcg.is/0TLWmS
You do not need a login in to use the survey. Simply download the Survey123 Field App and click on the third option "Continue without logging in", once on the login screen. To see the French version, click on the button on the top right corner, once in the survey to switch from English to French. A hardcopy version to take out to the field before entering it into Survey123 is also available here in English and French.
Please feel free to contact Tracey Baute (OMAFRA), Meghan Vankosky (AAFC-Saskatoon), Tracy Hueppelsheuser (BC Ministry of Agriculture), James Tansey (Saskatchewan Ministry of Agriculture), John Gavloski (Manitoba Agriculture), Brigitte Duval (MAPAQ), Suqi Liu (PEI Department of Agriculture and Land) or Caitlin Congdon (Perennia, Nova Scotia) if you have questions about this initiative.