Warm, dry weather is conducive to wheat stem sawfly (Cephus cinctus) population growth where they are present. Risk of damage to sawfly host crops is greatest when weather conditions are warmer and drier than normal. Risk associated with wheat stem sawfly can be predicted by calculating growth index values, where the growth index describes the potential for wheat stem sawfly population growth. Where growth risk index values are moderate to high, crop damage is more likely than in areas where growth risk index values are low to moderate. Scouting in moderate and high risk areas this fall (especially where wheat stem sawfly populations are known to be present) will provide valuable information about potential crop yield losses this year and about the risk of wheat stem sawfly population damage in next growing season.
Based on growing season weather in 2022 (April 1 to August 22), predicted wheat stem sawfly growth index values are low to moderate across most of the prairies (Fig. 1). This is due to average (in parts of Alberta) to above-average (in parts Manitoba and southeastern Saskatchewan) precipitation during the current growing season. Growth index values, based on 2022 growing season weather are predicted to be greatest in a region that extends from Swift Current to Saskatoon (Fig. 1). This area has been warmer and drier than the rest of the prairies.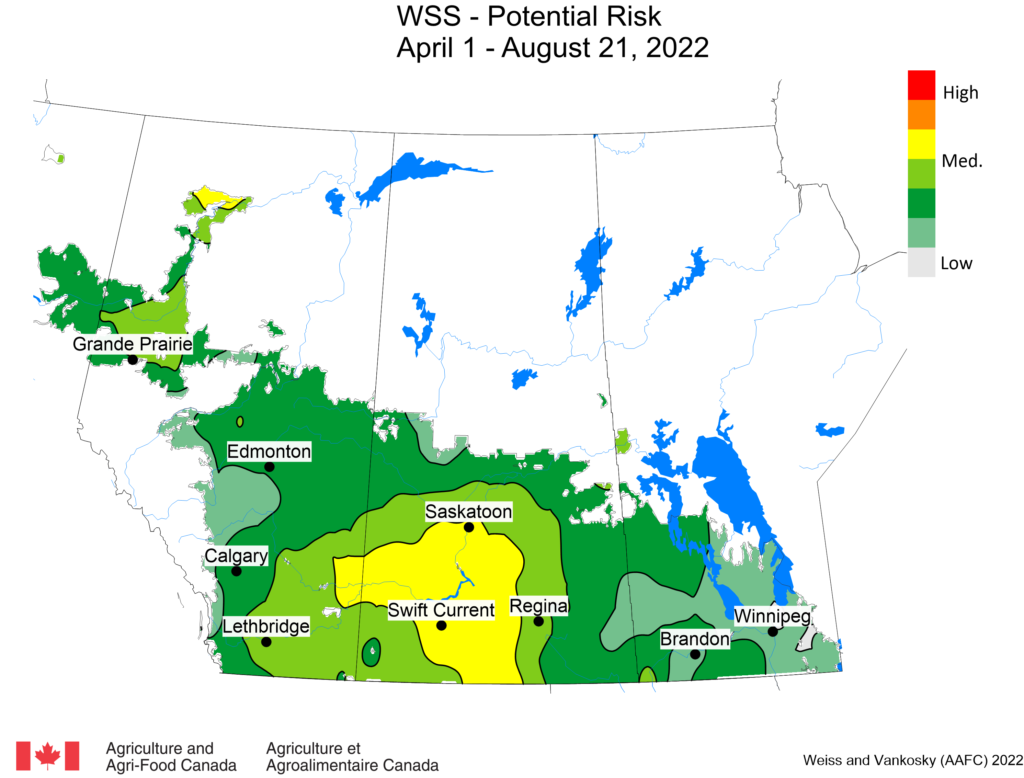 Access these resources for more information:
• Wheat stem sawfly was the Insect of the Week in 2021 for Week 12.
• Biological and monitoring information (including tips for scouting and economic thresholds) related to wheat stem sawfly is posted by Manitoba Agriculture and Resource Development, Saskatchewan Agriculture, Alberta Agriculture and Forestry, and the Prairie Pest Monitoring Network.
• Refer to the wheat stem sawfly page within the "Field Crop and Forage Pests and their Natural Enemies in Western Canada: Identification and management field guide" (2018) accessible as a free downloadable PDF in either English or French on our new Field Guides page.
• Review historical survey data for wheat stem sawfly.