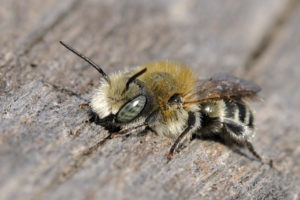 World Bee Day is May 20, and Agriculture and Agri-Food Canada (AAFC)'s Fredericton Research and Development Centre is hosting an opportunity to get the buzz on bees!
To celebrate the bees, we're inviting the public to a live talk and Q&A with AAFC Research Scientist Dr. Jessica Vickruck and Farm Operations Supervisor Rachelle Smith.
Whether you're a student, a budding scientist or a seasoned gardener, you are sure to learn something about bees, how to support these pollinators and the roles they play in our ecosystems.
Dr. Vickruck specializes in wild bees, and her work to understand their biology has continued throughout the pandemic. She has a lot of great information and insights to share, including a few recent discoveries. Rachelle Smith will be on hand to discuss the mutually beneficial relationship between farms and bees. You'll also get a sneak peek at some of the research Dr. Vickruck has been working on, as well as some tips on how to become a community scientist.
The live talk will be followed by an opportunity for attendees to ask questions in the official language of their choice.
Protecting wild bees is just one way Canadians can help the environment. This is a great opportunity for home gardeners and anyone else to learn from the best! All are welcome!
Details:
Date: Thursday, May 20, 2021
4 PM SK/AB; 5 PM in MB;  6 PM EDT
Online Event – Zoom: